By Paul Johnson on Oct 25, 2022 in Accommodation, Europe, Family travel, Food and drink, Nightlife, Hotels, Iceland, Pleasure travel, Regions, Restaurants, Specialty travel, Miscellaneous travel, Western Europe
We arrived at the Keflavik hotel before our flight back to the UK for which we started very early. (The hotel is just a 6-minute drive from the airport.) The building actually houses two hotels, both under the same management – the four-star Hotel Keflavik and, on the top floor, the Diamond Suites Luxury Boutique Hotel. Many facilities are common to both hotels. We are able to bring you details of both hotels as our sons stayed in a room at the Keflavik Hotel, while we stayed in the Diamond Suites.
Home
Two large stone lions stand guard on either side of the main entrance to the Keflavik Hotel. Parking near the hotel entrance was free, with plenty of spaces available when we arrived.
Inside, an airy lobby and surprisingly glitzy reception desk was where we were effortlessly checked in before heading to our respective rooms.
Bedroom
The comfortable bedroom consisted of twin beds, an armchair for relaxing and a desk area.
An amalgamation of muted tones was interrupted by a series of whimsical lamp shades that offered a splash of color.
Icelandic artwork adorned the walls and the room also had a TV, telephone, safe and Nespresso machine.
The bedroom overlooked two guest houses, a fishing pier and a sheltered North Atlantic bay. The name Keflavik translates to "Driftwood Bay".
We found it to be a quiet area so you should be guaranteed a good night's sleep.
The bathroom
The bathroom in the room was compact but with everything needed for a short stay: WC, sink, shower and bath, hair dryer, bath mat, washcloths and towels.
A toiletry kit included a shower cap, bath salts, sewing kit, shoe mitt, and Diamond Suites-brand shampoo, conditioner, body lotion, shower gel, and soap.
The installations
Dining at KEF Restaurant, where the focus is on fresh Icelandic ingredients, is a special part of any stay at Keflavik Hotel.
The lobster soup, flavored with chilli, coriander, ginger, lemongrass and star anise is a treat for the taste buds.
The main course that stood out for me was the monkfish with chorizo, olives, tomatoes, walnut pesto, pearl onion, potatoes and yuzu hollandaise sauce.
Carnivores will love the grilled leg of lamb – served rosé – with yellow beet mash, grilled yellow beet, rainbow carrots, herb crust, fondant potato, herb and date demi-glace.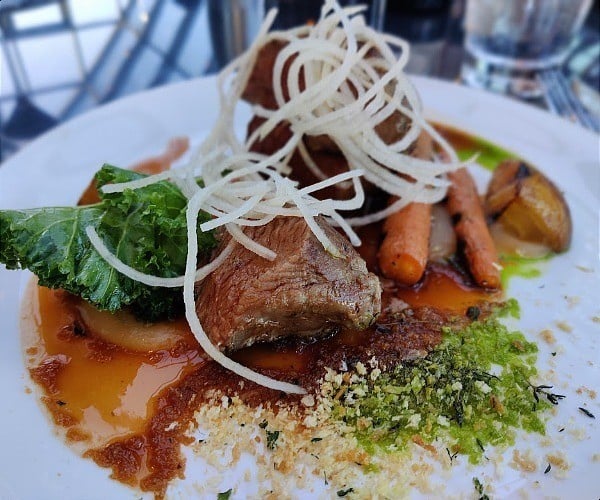 Among the sweet treats, this chocolate and caramel brownie served with vanilla ice cream and forest fruits.
If you're worried about pounds put on at the restaurant, the hotel also has a 7,000-square-foot fitness center, with treadmills, ellipticals, stationary bikes, power benches, and an assortment free weights, resistance bands, flexing machines and weight machines.
Location
Located on the Reykjanes Peninsula, just a 2-minute walk from the North Atlantic Ocean, one of the great draws of Hotel Keflavik is its location. The hotel's proximity to Keflavik International Airport is a major plus. Whether you're arriving in Iceland quite late at night or departing on an early morning flight, you'll appreciate the convenience of being just a 6-minute drive from the airport.
Cost
Standard double or twin rooms start at around ISK 25,000 including breakfast.
---
IMPORTANT NOTICE:
If you are reading this article anywhere other than A Luxury Travel Blog, chances are this content was stolen without permission.
Please note the web address above and contact A Luxury Travel Blog to let them know about this issue.
Thank you for your help in the fight against content theft.
---
The best piece
The best thing about the hotel is its location and in particular its proximity to the airport. It's only a short taxi ride away and close to a gas station if you need to return a rental car with a full tank. It is also a 20-minute drive from the Blue Lagoon and a 45-minute drive from Reykjavik.
The final verdict
The Keflavik Hotel is a clean, funky, well-located 4-star hotel with a good restaurant. For us it was the perfect location for our last night in Iceland as we had to get up early the next morning to return our rental car and arrive at the airport early enough for our flight, which meant we didn't have to get up as early as we would if we were still based in Reykjavik. For an even more luxurious stay, consider Hotel Keflavik's sister hotel, the Diamond Suites, which occupies the top floor of the same hotel.
Are you planning a trip to Iceland yourself? You can watch a video of our trip to Iceland here:
Disclosure: This post is sponsored by Hotel Keflavik. Our trip to Iceland was also sponsored by Helly Hansen.