FlyOver Iceland is one of Reykjavik's newest attractions, having opened in the fall of 2019 in the harbor area of ​​Grandi, about a 20-minute walk from the city center. This indoor attraction includes two pre-shows, but the highlight of any visit is a simulated seated flight over Iceland's many natural wonders, made possible by a massive 20-meter wraparound spherical display.
FlyOver Iceland is the result of years of collaboration led by Creative Director Rick Rothschild, who served as Creative Director at Disney for over 30 years. His work combined with that of the talented helicopter pilot Jón Björnsson, who shot some scenes in game of thrones among others, the eminent composer Kjartan Holm and the illustrator Brain Pilkington, come together for the incredibly immersive attraction that you can visit today.
We were asked to arrive about 30 minutes before the start of our journey so that we could reserve and use the Kaffi Grandi cafe before our flight. They serve light snacks and all the usual things you might expect. Because we traveled to the venue by electric scooter, we took the time and arrived even earlier, so our booking was helpfully and efficiently moved to an earlier flight to avoid excessive waiting.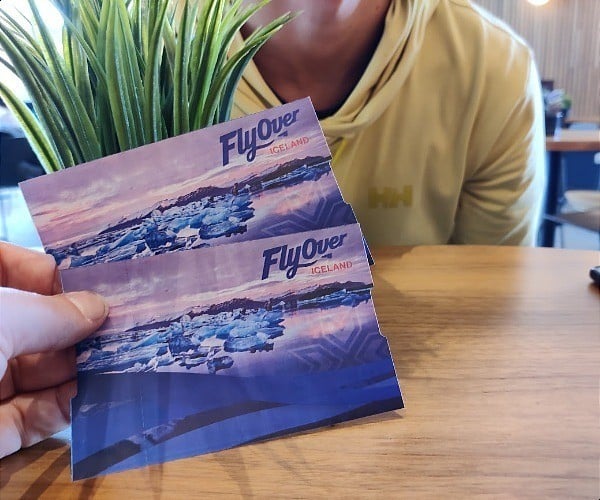 About 10 minutes before the ride everyone was called upstairs where there is a green screen and we were able to take a picture of our group – one of us standing up normally, and another of us with arms up strained, pretending to fly. These are optionally available for purchase, in a variety of Icelandic settings, at the end of the experience. No photography is allowed inside the experience, so you'll have to make do with stock footage and my description from now on.
In the first of the pre-shows, we entered a dark room that turns out to be an old Viking longhouse where an Icelandic storyteller tells one of his tales by the fireplace as shadows come to life on the wall behind him.
In the second pre-show, known as Well of Time, we delve deeper into the history of Iceland, guided by a local troll named Sú Vitra, who guided us through three different acts. First, you will feel the power of the earth as the strong and often violent forces of nature take shape. This is followed by the arrival of the man and the introduction of Þetta Reddast (a commonly used Icelandic phrase meaning "everything will be fine"). Finally, learn how the Icelanders made their living on this island. Life goes on no matter what.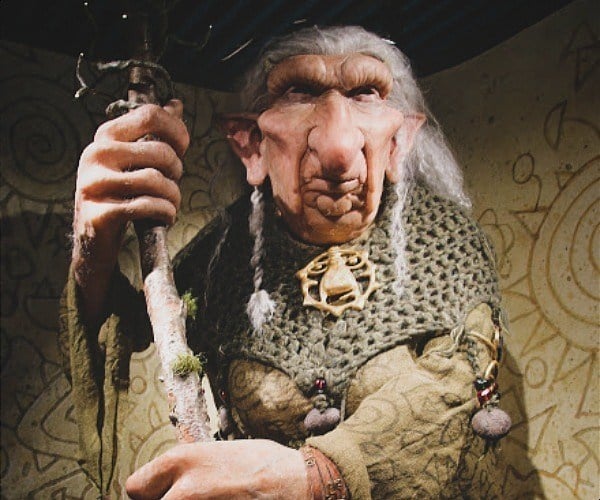 Once the pre-shows are over, it's time for the main event – the immersive flight experience! We were shown to a row of seats where we could sit down and buckle up. Yes, you are wearing seat belts for this part!
We could leave our belongings under our seat, but once the simulation started, our seats rose a little off the ground and the barrier we saw in front of us fell down to provide a full flight experience.
With our feet dangling below us, we had this real sense of flight. And the views and video footage we experienced are second to none.
We visited FlyOver Iceland towards the end of our stay in Iceland, which I think was the right fit, as it meant we could relate more intimately to many of the scenes we saw, such as the scenes from the Reynisfjara beach and Jökulsárlón glacier lagoon. .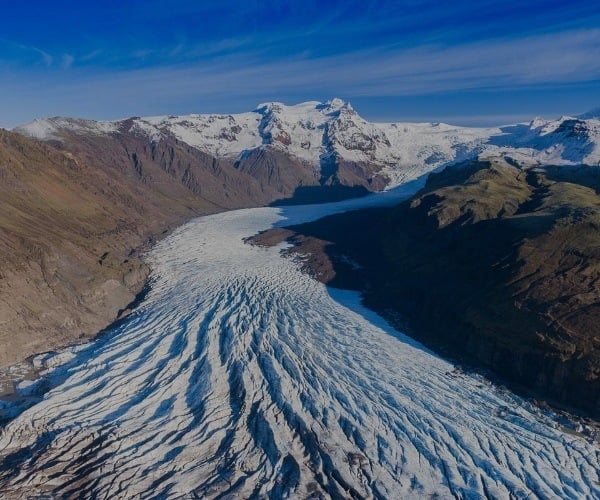 And what's important to try to get across (but you'll have to visit to get the full experience) is that FlyOver Iceland isn't just about sitting in an elevated chair and watching a big screen. It's so much more immersive than that. Our seats twisted and turned as we were chilled by the cold arctic wind, we inhaled the scents of lupins while flying over a flowering meadow and our faces smelled of the cool mist from a nearby waterfall.
In fact, the experience is so physically realistic, using state-of-the-art technology that had us diving through magical landscapes, that some people are sick of it – luckily it hasn't happened to any of us (or to anyone else I could visibly notice) but it's something to keep in mind if you're prone to motion sickness.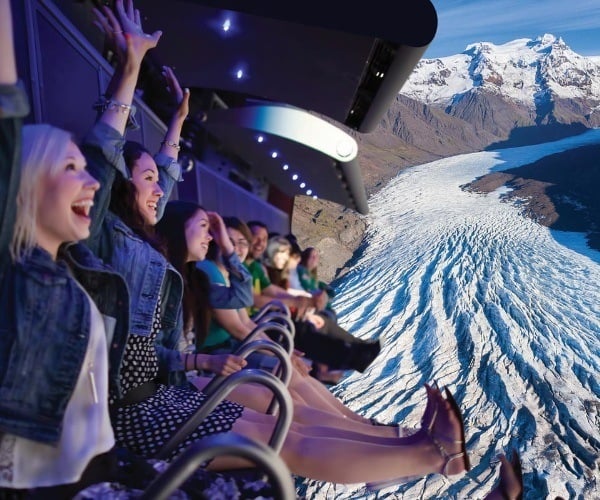 The ride itself is exhilarating and fun, even at one point passing under a natural arch, and the scenery throughout is breathtaking. And after our flight, we were able to see a map of the places that were traveled during the experience. These include Fjaðrárgljúfur Canyon, Breiðamerkurjökull Glacier, Hörgársveit Mountains, Elliðaey Island, Aldeyjarfoss Waterfalls, Reykjavík City and more. There is also a gift shop.
FlyOver Iceland opens at 10am and runs every 15 minutes until 6.45pm. The experience costs ISK 4,990 for ages 13 and up, or ISK 2,495 for kids 12 and under. (Children must be accompanied by an adult or guardian (14 years or older) and be at least 100 cm (40 inches) tall.)
Some might think it's quite expensive for an experience that takes 35 minutes (including only 8.5 minutes of flight). However, nothing is cheap in Iceland and compared to a helicopter flight experience, which would cost you more than ten times that amount, then it really isn't that bad. And of course, you cover much more than you could ever hope to experience from a single helicopter flight.
For more of an idea of ​​what to expect, see the trailer below:
---
IMPORTANT NOTICE:
If you are reading this article anywhere other than A Luxury Travel Blog, chances are this content was stolen without permission.
Please note the web address above and contact A Luxury Travel Blog to let them know about this issue.
Thank you for your help in the fight against content theft.
---
Are you planning a trip to Iceland yourself? You can watch a video of our trip to Iceland here:
Disclosure: This post is sponsored by FlyOver Iceland. Our trip to Iceland was also sponsored by Helly Hansen.