By Paul Johnson on Oct 16, 2022 in Adventure Travel, Attractions, Cruises & Boat Trips, Europe, Family Travel, Going Out, Iceland, Pleasure Travel, Regions, Specialty Travel, Western Europe
The cold waters off the Icelandic coast are home to a variety of marine life and provide the perfect opportunity for whale watching, especially during the period from April to September. Whales, dolphins, seals and porpoises are regularly sighted in their natural environment on boat tours from Reykjavik. And sometimes, if you are very lucky, you may even see basking sharks.
Although there are many whale watching services operating out of Reykjavik, knowing which one to choose can be a challenge. With larger vessels, your view may be a bit farther and the ability to move around to get the best view may be somewhat restricted. With smaller boats such as RIBs you will have greater maneuverability and may be more likely to get closer, but this will not give you the level of comfort you want, especially if the weather is bad.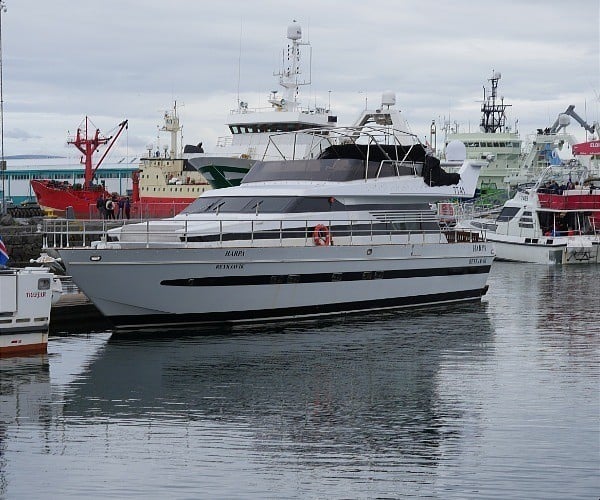 We went with Harpa Yachtswhich offer the perfect combination of good visibility, comfort and maneuverability, aboard a luxury yacht where you can escape the crowds and enjoy an experience with fewer passengers, and with local and personalized service on board.
Harpa Yachts is a family run business that has been offering comfortable whale, dolphin and puffin watching cruises from Reykjavik since 1998. The founders and owners pioneered whale watching tours in Reykjavik. Their main focus has been personal and quality service aboard their well maintained 70ft MY Harpa yacht, fully equipped with saloon, lounge, bar and a fly bridge with a view to 360 degrees. They also have MY Amelia Rose which is 108ft long, often used when the weather is less good, and their newest addition the 50ft MY Axel Rose used for small groups and exclusive trips.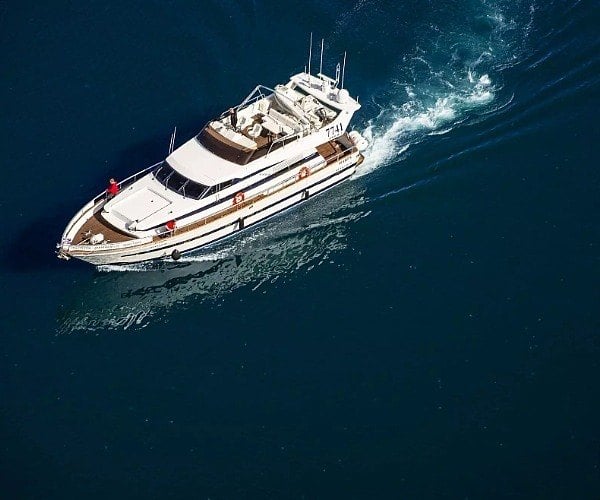 Cruises depart from Reykjavik Old Harbor in downtown Reykjavik and head to Faxaflói Bay, a large bay in southwest Iceland, between the Reykjanes and Snänfellsnes peninsulas.
"Welcome aboard this one-way trip to Greenland…" Capt Einar said on the tanoy system as we left Reykjavik harbour. By then we had grown accustomed to Icelanders enjoying a joke or two from other tours we had been on, but wondered if any other passengers were momentarily slightly panicked by the announcement!
We left Reykjavik hoping to see whales but at the same time realizing that we were dealing with nature and a successful sighting was by no means guaranteed. That said, most trips are successful, especially during the summer months of July and August.
The ship is beautiful and was originally built in Italy by Cantieri di Pisa. She was bought by Harpa Yachts in 2012 from Greek shipowners and sailed as far as Iceland, before being modernized in 2017-2019. It can accommodate up to 35 passengers, ensuring a fairly intimate whale watching experience.
As we ventured into the bay we saw the occasional puffin – often lying in a line of half a dozen or so – many of which carried sand eels in their beaks, no doubt taking them to their young. Iceland's nesting grounds account for around 60% of the world's Atlantic puffin population in spring and summer, so there's a good chance you'll see a few, even if it's from afar.
Of course, the main purpose of our trip at sea was to watch whales and this has eluded us so far, despite the best efforts of our captain and crew. As many as 23 different whale species have been recorded off the coast of Iceland, but only 12-14 of them are considered regular inhabitants.
The ship has a viewing deck at the top and passengers were asked to say one o'clock on the clock if they were to spot anything (e.g. "3 o'clock" if there was a sighting on our starboard side ) to help others know where to look.
Everyone was scouring the sea hoping to see something but it looked like we were out of luck.
Then all of a sudden we had a sighting. A humpback whale!
Everyone's gaze fixed on the place where we had just seen it. There were three or four boats looking for whales and one of the smaller boats repositioned itself for a better view, only to see it come to the surface a few minutes later.
Here is another version of the same photograph, cropped a little tighter.
The humpback whale (or hnúfubakur as it is called in Iceland) usually stays underwater for 5-15 minutes. They are characterized by long fins and generally live in solitude or in small, unstable groups. There are thought to be up to 100,000 humpback whales in the world, and they migrate a distance of 6,000 kilometers one way – the longest known journey for a mammal. They can be up to 17 meters long (that's about the length of 10 adults lying on their side in a single line!) and up to 40 tonnes (the combined weight of three double-decker buses!).
---
IMPORTANT NOTICE:
If you are reading this article anywhere other than A Luxury Travel Blog, chances are this content was stolen without permission.
Please note the web address above and contact A Luxury Travel Blog to let them know about this issue.
Thank you for your help in the fight against content theft.
---
With a significant period of time having passed, and no further sightings, it seemed our friendly whale had moved on. An alert went over the radio that a whale had been sighted elsewhere, so all the boats set off to try to take advantage of this sighting. We stayed put and our captain's patience was rewarded when the whale reappeared, just like the other boats left!
Humpback whales are well known for their breaching acrobatics – although we never saw this breaching whale, we were lucky enough to see it come to the surface on several occasions. That alone was a very special experience.
There was a final wave from the tail of the whale, known as the fluke, as if to taunt the boats that had chosen to look away. Lifting the fluke before a dive is something that is particularly characteristic of humpback whales.
With Harpa Yachts we were able to experience a fun small group tour, with both indoor and outdoor seating options on board. Warm blankets are available, as well as free Wi-Fi, a bar and lounge, restrooms and a professional and experienced crew. In case of no whale sighting – which can happen on rare occasions because nature is not always 100% predictable – a free ticket is also offered.
Whale watching in Iceland is a unique experience not to be missed!
Unfortunately, whales are still hunted in Iceland despite an international agreement from the International Whaling Commission (IWC) to stop all commercial whaling by 1986. However, the practice of whaling in Iceland has experienced a strong decline and the country has announced that due to lower demand it will no longer hunt whales from 2024. Hopefully this will make whale watching tours from Reykjavik even more rewarding in the future .
In addition to whale watching tours, Harpa Yachts also offers a Northern Lights yacht cruise as well as private yacht tours along Reykjavik's coastline, with a unique view of the city's sea. On a private cruise, you can do everything from deep-sea fishing to skeet shooting to golf driving competitions.
Are you planning a trip to Iceland yourself? You can watch a video of our trip to Iceland here. Images from our whale watching excursion can be seen between 5m 56s and 6m 03s:
Disclosure: This post is sponsored by Harpa Yachts. Our trip to Iceland was also sponsored by Helly Hansen.