Seljavallalaug Pool is an hour and a half east of Reykjavik, along Iceland's Route 1 ring road that circles the country. From there, follow Route 242 to the small parking lot used by pool visitors and located just south of it. This fairy tale place is between the Seljalandsfoss and Skógafoss waterfalls, which are 15 and 10 minutes away by car respectively.
Built in 1923 by a local man to teach Icelanders how to swim, Seljavallalaug Pool is one of the oldest pools in Iceland, but predates Flúðir Secret Lagoon which dates back to 1891. It measures 25 meters long and 10 meters wide, making it the largest swimming pool in Iceland until 1936. It has seen little change since it was built 100 years ago; it was filled with volcanic ash after Eyjafjallajökull erupted in 2010, rendering it unusable for a brief period until volunteers cleaned it up the following year.
Hidden in the mountains of southern Iceland, it's popular with Instagrammers for its iconic location but often overlooked in favor of other area attractions such as the aforementioned waterfalls and plane wreckage, all of which are very close.
From the Seljavallalaug car park it is only a 20 minute walk to the swimming pool. The route is fairly obvious, helped in part by following other people taking the same route.
If it helps, here's my Strava recording of our walk to the pool:
It's just under two kilometers one way and mostly flat. If you are unsure of your route, note that you will not see the pool until you reach the end of the walk.
The only slightly tricky part of the walk is a rocky stream that you will have to cross. Depending on the time of year, it could be icy in the winter or wider than normal in the summer.
The swimming pool is fed naturally by geothermally heated water and is in a magical setting on private grounds but there is no entrance fee. You enter the pool at your own risk and there are no lifeguards.
---
IMPORTANT NOTICE:
If you are reading this article anywhere other than A Luxury Travel Blog, chances are this content was stolen without permission.
Please note the web address above and contact A Luxury Travel Blog to let them know about this issue.
Thank you for your help in the fight against content theft.
---
Just before you reach the pool you will see a tank and pipe on the left which feed geothermally heated water into the pool at its deepest point.
The mountain forms one side of the pool and the water is contained by the other three constructed sides. Although geothermally heated, the water is not as warm as some Icelandic pools – around 20-30°C or 68-86°F, that's it. We had come armed with bathing suits and towels with the intention of swimming. The water looked full of seaweed, however, and less than clean (despite a handful of people bathing in it), with minimal fresh water flowing in and out, so ultimately we chose not to swim . We took a look inside the locker rooms and best avoided them altogether… definitely NOT what you would call luxury! The luxury here is in the unique and picturesque landscape that surrounds the pool, and unfortunately not in the facilities themselves. The pool and changing rooms are only cleaned once a year and unfortunately not maintained by what is likely a minority of tourists. If you visit, be sure to leave no traces – take all your belongings and any rubbish back with you so the pool can be enjoyed by others.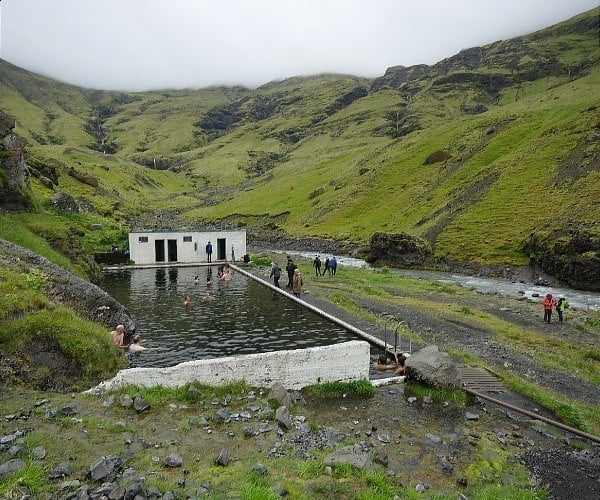 Are you planning a trip to Iceland yourself? You can watch a video of our trip to Iceland here:
Disclosure: Our trip to Iceland was also sponsored by Helly Hansen.