Iceland is of course best known as the "Land of Fire and Ice", thanks to its many volcanoes and glaciers. There are other interesting and somewhat unusual attractions, however, and one of them is the plane wreckage on Sólheimasandur, a black beach on the south coast of Iceland.
It's about a 20 minute drive from Vik, but first a shout out for the soup company to Vik where we first stopped for lunch before visiting the plane wreckage.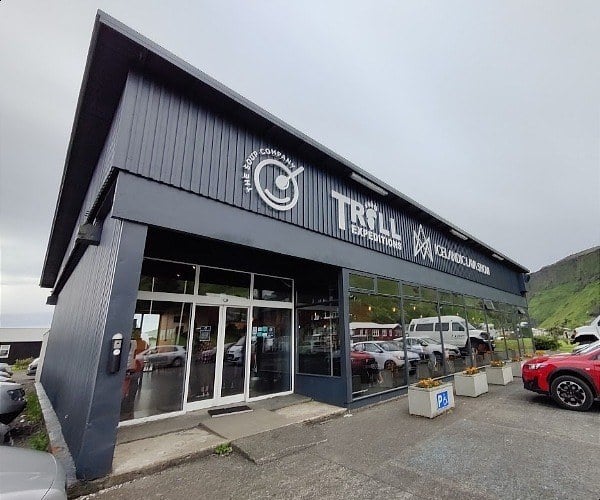 The Soup Company is a great place to try Iceland's famous hot red lava soup. It's their signature beef goulash soup, full of flavor and delivered in a black lava bread bowl with yogurt on the side.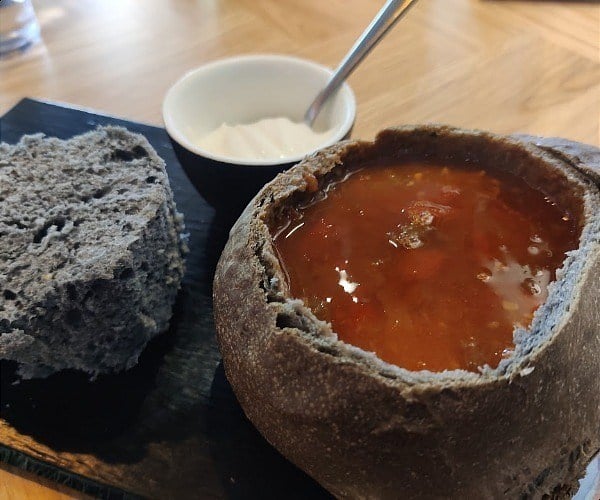 But they also do a lot of other soups, like an Icelandic lamb soup, a curried fish soup with Icelandic cod and prawns, and an Indian winter soup (with carrots, onions, lentils, coconut cream, crushed pineapple and Indian herbs and spices) . If you can't decide, just choose the tasting menu (for one person) where you can taste three soups in three bowls.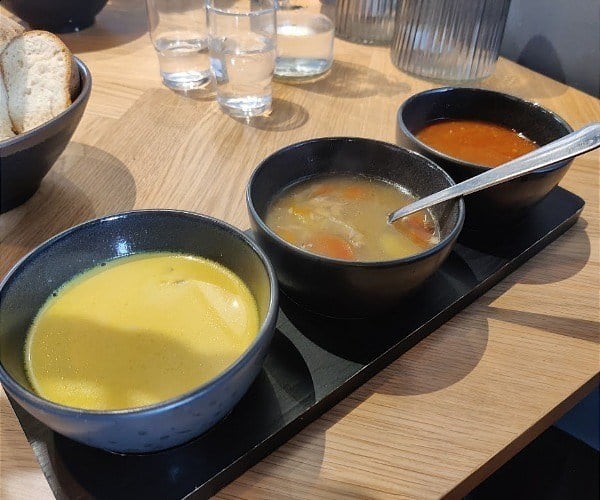 Whatever you choose, they're healthy and filling, and they'll even fill your bowl if you want more!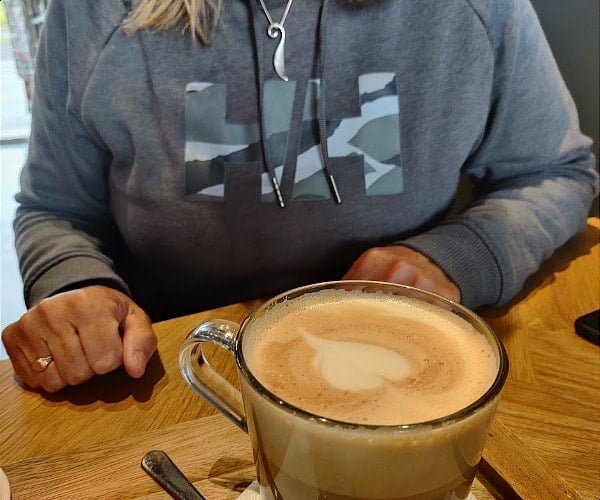 Feeling sufficiently refreshed, we got back in the car and headed west along Highway 1 to view the plane wreckage.
But first, I'll give the accident some context. It was in 1973 that a US Navy transport plane ran into trouble and crashed on the beach at Sólheimasandur. The aircraft was flying from Hofn Hornafjördur Airport to Keflavik Naval Air Base, after delivering supplies to Stokksnes Radar Station. Although reported as the wreckage of a Douglas DC-3, it is actually the remains of a converted Douglas C-117.
Different theories abound as to what caused the accident. The Airline Safety Network says the plane experienced severe icing, which prevented the crew from maintaining altitude, forcing the plane to land. Some say, however, that the accident happened because of a failure by one of the pilots when switching between fuel tanks, which resulted in the plane running out of fuel and the forced to land. Apparently there was heavy fog and the visibility was so poor that there were times when the crew was unable to see the wingtips.
There is even confusion about the date of the crash. Many reports say it fell on November 24, 1973, but the Icelandic newspaper Morgunblaðið reports, on November 22, 1973, that it had crashed the day before the publication date. This date of November 21, 1973 seems accurate, and is supported by the Aviation Safety Network summary.
Regardless, and regardless of the date, all crew members survived without significant injuries and the remains of the aircraft were left on the beach. The plane was later stripped by the United States Navy of all valuables, but the main fuselage still lies where the plane crashed. It was once used as storage by the farmer it crashed into, as well as target practice by local hunters (which explains the bullet holes you might see), but has since become a tourist attraction in its own right, likely aided by the coverage it received in music videos and on television (see below).
Previously, you could drive to the crash site, or even spend the night there, but both are no longer possible. Although it is on private land, you can still visit it and there is ample parking just off the main Route 1 ring road.
---
IMPORTANT NOTICE:
If you are reading this article anywhere other than A Luxury Travel Blog, chances are this content was stolen without permission.
Please note the web address above and contact A Luxury Travel Blog to let them know about this issue.
Thank you for your help in the fight against content theft.
---
Most people visit on foot from here, but there is the option of taking the plane wreckage shuttle. Although people waited a bit for this when we were there, soon realized that it wasn't working. In the past there was the option of renting a 'fat bike' but we saw no evidence of this at the time of our visit.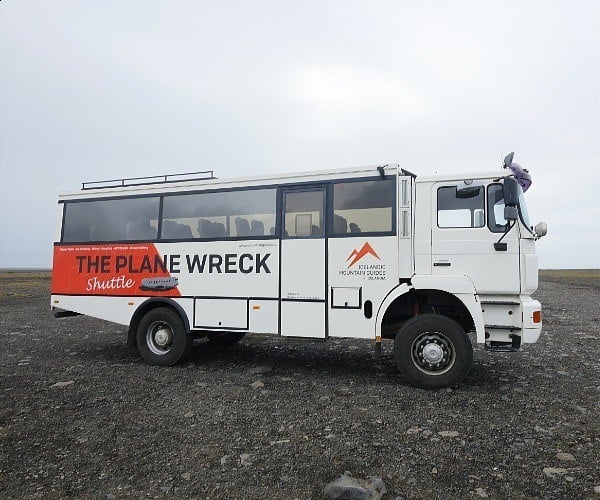 A sign tells visitors that it takes 3 to 4 hours to hike each way. Doesn't sound that realistic in my opinion – on a good day I think it can be done one way in about 30 minutes if you walk briskly or in an hour if you walk at a more comfortable pace. That said, a generous time estimate may be given for good reason, as the weather can change quickly and can affect visibility, so it's best to err on the side of caution. Beware – an American tourist died in 2017 near the plane, as did two Chinese tourists in their early twenties in 2020, presumably caught off guard by inclement weather. So it's a good idea to check Iceland's weather service (vedur.is) before venturing out. And don't forget the emergency number in Iceland which is 112.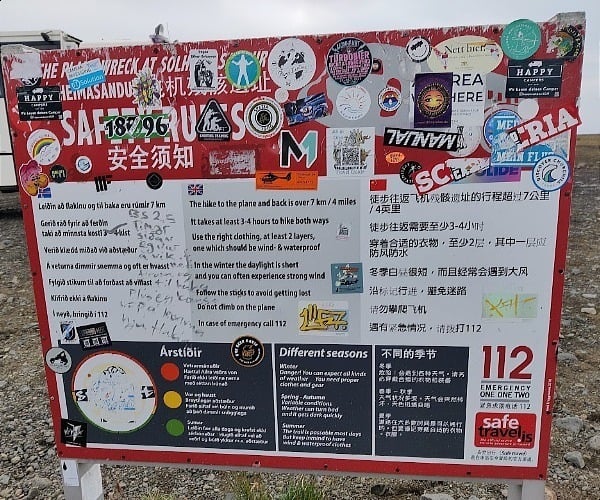 The path to aircraft wreckage is more clearly defined these days than it was in the past, aided by occasional reflective markers in the ground, which hopefully reduces the risk of loss of people. As you walk, it's not very exciting – you're basically walking on a glacial outwash plain that looks like this.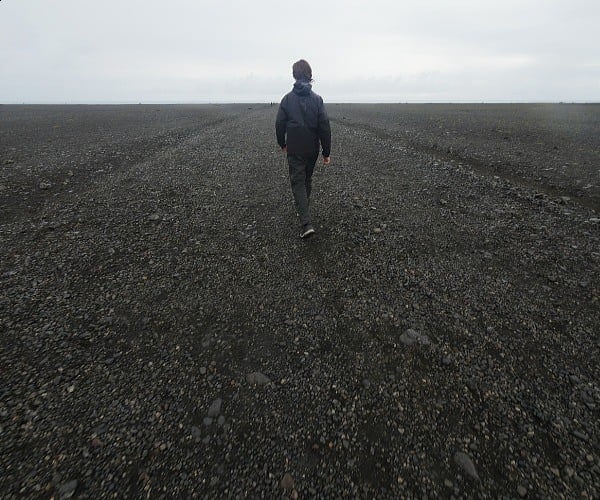 Finally, after about three kilometers of this almost post-apocalyptic landscape, the track of the path turns left and the plane appears in the distance.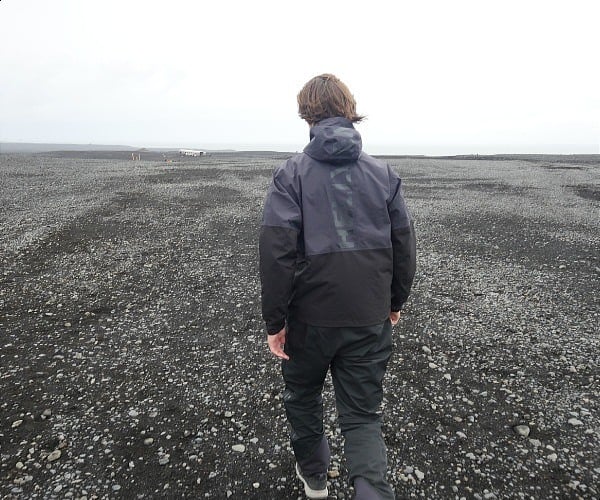 When we arrived there were people climbing on it. I read that it was illegal but I don't know if it's true. Either way, I wouldn't recommend it – firstly, there are parts of the plane that didn't feel very stable; second, it wouldn't be a good place to slip and twist your ankle (or even worse, break your leg); and third, it's just not very considerate of other people visiting and wanting to take pictures.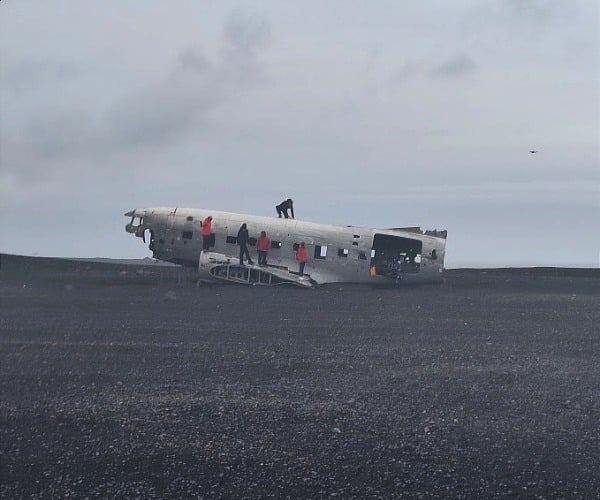 Although the plane wreckage is quite interesting to see and look at, I don't think you'll need that much time once you see it. It's a mesmerizing scene in the middle of nowhere, surrounded by miles and miles of nothingness – just black sand as far as the eye can see.
You can see inside the dilapidated fuselage. Apparently, the plane saw service in the Korean and Vietnam wars before being deployed to Iceland's Keflavik airport.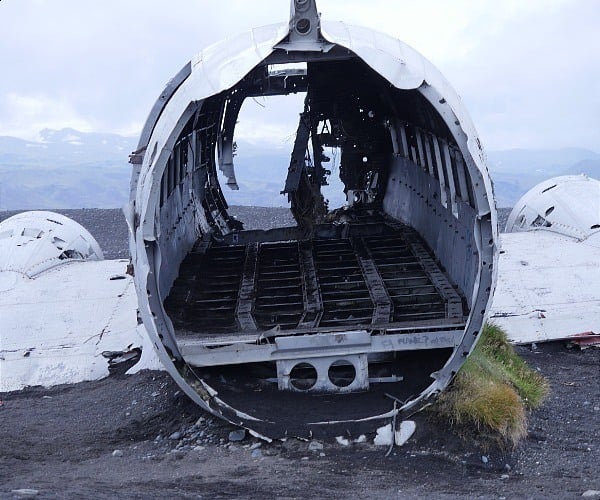 Unlike many Icelandic attractions, the plane wreck stands out as it is entirely man-made, providing a stark contrast to its otherwise untouched natural surroundings.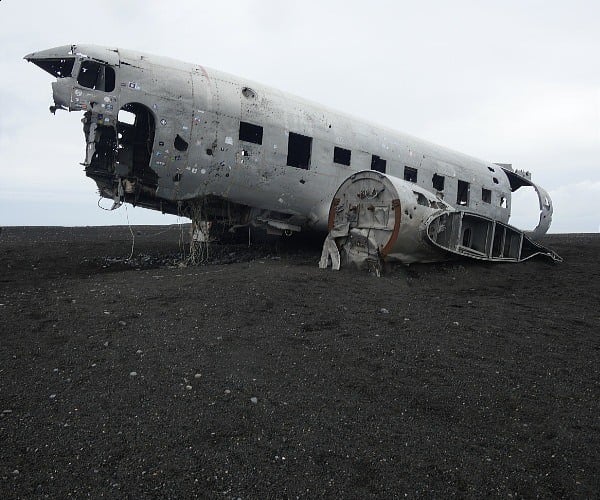 This surreal scene – a gray fuselage against a black background and often gray skies – looks more like a scene from a sci-fi movie than the real thing. For this reason too, of course, it is a photographer's paradise.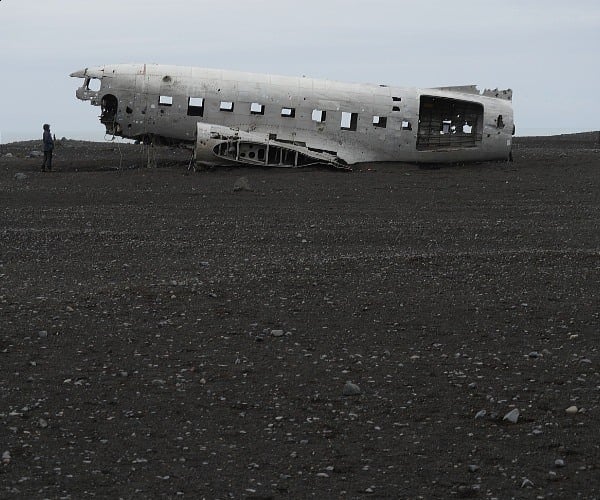 For a number of years the local Icelandic population did not regard the wreck as something of international interest and fascination and even discussed its removal because it was a blot on an otherwise untouched landscape and virgin.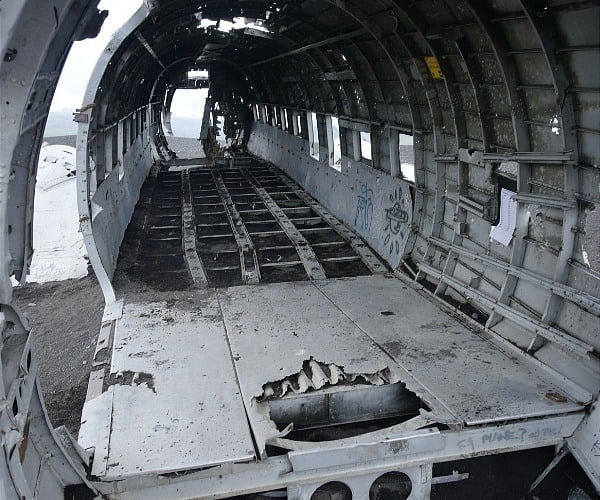 Given its enduring popularity these days, it seems unlikely that it will ever happen. Nonetheless, I'm sure many would question the appeal of visiting this wreck given the many natural wonders you could visit in Iceland instead.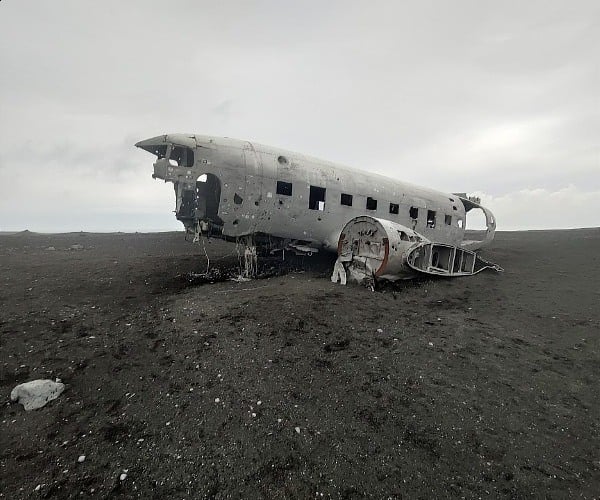 Perhaps it's the otherworldly landscape the wreckage is set in as well as the mystery surrounding the accident that adds to the intrigue. One thing is certain, the publicity the wreck has received through various media has certainly increased awareness and interest in the site. Perhaps most famous of all, Justin Bieber's video for the song I will show you features him skateboarding on top. Watch from 2 minutes 11 seconds.
The clip of the song Gerua in bollywood movie diwale sees actors Shah Rukh Khan (aka SRK) and Kajol posing above the plane. Watch from 1 min 31 seconds.
And the music video Let me enter, from Korean girl group Loona, also features the plane. Watch from 53 seconds.
Another music video featuring the wreck is Emis Killa's Mercurio. Watch from 1m 38 seconds.
Finally, the plane wreckage also appears when Mikael encounters it in the Netflix sci-fi drama, Katla.
Are you planning a trip to Iceland yourself? You can watch a video of our trip to Iceland here. You can briefly see footage of the aircraft wreckage between 5m 23s and 5m 29s:
Disclosure: Our trip to Iceland was also sponsored by Helly Hansen.