Located near the small village of Skógar, Skógafoss is one of Iceland's largest and most famous waterfalls, accessible from Reykjavik in less than two hours and easily visible from Iceland's Route 1 Ring Road. 25 meters wide and, with a drop of 62 meters, it is the fifth highest waterfall in Iceland. The name Skógafoss literally means "forest waterfall", reminding that this area was once covered with trees.
Skógafoss has featured in numerous music videos as well as the Marvel Studios movie Thor: The Dark World as well as in season 8 of game of thrones. In The Secret Life of Walter MittySkógafoss was used in the footage while traveling to the Himalayas, although its actual location is in Iceland.
On the east side of the waterfall, there is a path that leads to a staircase of almost 500 steps, which in turn leads to a viewing platform just above the waterfall. The climb is manageable for most people with a moderate level of fitness, even if you choose to take the occasional break, and it's worth it for the views. Watch out for seabirds nesting in your path, as well as northern fulmars patrolling the skies.
This path also marks the start (or end) of a popular hiking route known as the Fimmvörðuháls pass. This trail is 22 kilometers long, accessible only in summer. Even if you venture a short distance and turn around, you will see a number of additional waterfalls. If you do the whole route from Skógafoss, the route takes you along the Skógá River, between Mýrdalsjökull and Eyjafjallajökull (both of which feed the river with meltwater), before ending in the beautiful valley from Þórsmörk.
At Skógafoss, the Skógá River cascades over a cliff that would once have been the southern coast of Iceland. This ancient sea cliff runs parallel to the current coastline for hundreds of kilometres, creating a clear distinction between the coastal lowlands and highlands of Iceland.
From the top, you can not only enjoy the tremendous power of this incredible waterfall, but also admire the view of the Atlantic Ocean.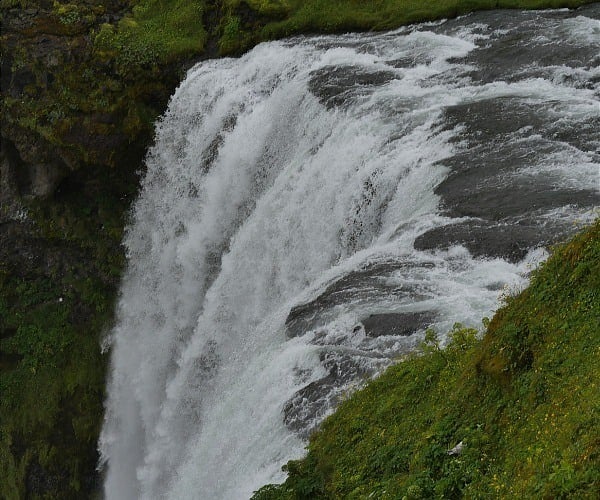 The river below the falls is popular with anglers as it supports a large population of salmon and arctic char. The numbers had plummeted after Eyjafjallajökull erupted in 2010, but are now said to be thriving again.
Back at ground level, you can walk as close as you want to this stunningly beautiful waterfall, but beware… there's a lot of spray and you might get soaked! If you have a rain cover for your camera, by all means bring it.
---
IMPORTANT NOTICE:
If you are reading this article anywhere other than A Luxury Travel Blog, chances are this content was stolen without permission.
Please note the web address above and contact A Luxury Travel Blog to let them know about this issue.
Thank you for your help in the fight against content theft.
---
Legend has it that the area's first Viking settler, Þrasi Þórólfsson, apparently a giant, buried treasure in a cave behind the waterfall before his death in 900 AD. A local young man apparently found the chest a few years later, tied a rope to its ring handle, and tried to pull it out, but the handle ring fell off and the chest was never seen again. . This handle is said to have been given to the local church in the village of Skógar and used on its door. Today this ancient church door ring can be seen in the Skógar Folk Museum.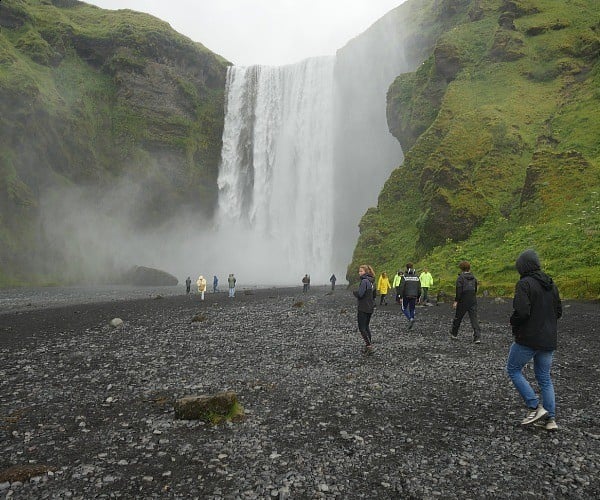 On sunny days it is not uncommon to see single or double rainbows in the spray produced from Skógafoss. Unfortunately we were unlucky on this front as the sky was overcast at the time of our visit.
Access to the falls is easy with parking nearby. There is a rest room at the entrance to the car park which you may have to pay for; it happens to be open to all when we were stopped, but have some change with you just in case.
Are you planning a trip to Iceland yourself? You can watch a video of our trip to Iceland here. You can see images of Skógafoss between 5m 29s and 5m 44s:
Our trip to Iceland was also sponsored by Helly Hansen.