The exclusive stretch of white-sand beachfront known as Millionaire's Row in Miami Beach has long been a glamorous neighborhood, enjoying warm ocean breezes and the ultimate in luxury living. You too can contemplate this magnificent setting thanks to the new 57 Ocean Miami Beach development, the latest addition to an elite collection of luxury properties on Collins Avenue.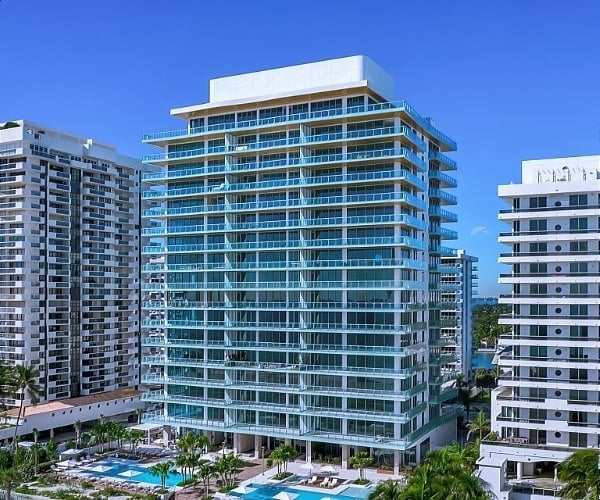 Located at 5775 Collins Avenue, 57 Ocean, Miami Beach offers easy access to Miami International Airport and all of Miami's major adjoining neighborhoods including South Beach, The Design District, Wynwood, Downtown and the desirable Brickell neighborhood. Its prime location with 220 linear feet of Atlantic beach provides residents with the perfect combination of superior abode with exuberant nature.
The development brings something different to Miami – a new feeling, a new mindset, and a new way to find joy. This is the brainchild of Brazilian billionaire José Isaac Peres, founder of Multiplan Real Estate Asset Management, who says: "My vision for 57 Ocean is an iconic building located between ocean and land. It's like living in two worlds simultaneously.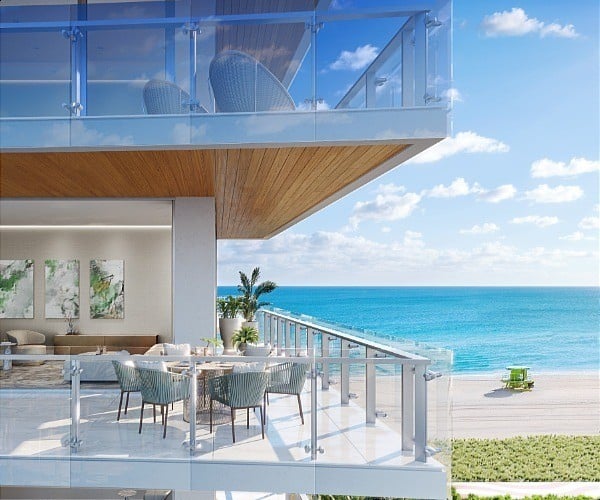 The building certainly shines among its neighbors, rising 18 stories above the blue waters of the Atlantic with 81 two- to four-bedroom units, ranging in size from 1,245 to 3,623 square feet. The structure is a very simple prism, redefined by a series of balconies that start straight and slowly begin to turn into curvilinear shapes, mimicking flat seas as they hit the beach and become rolling waves. This undulating facade is the work of the exceptional world-renowned Arquitectonica, while the landscape architecture is by ArquitectonicaGEO and the interior design is the responsibility of Anastassiadis Arquitetos.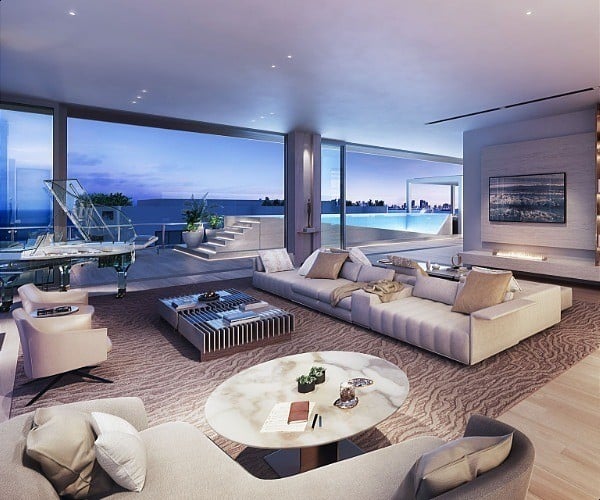 With a hall and entrance reminiscent of a gallery, every detail of the building and the serene ocean outside give you a sense of well-being. Stunning residences with private elevator access, sleek and stylish Brazilian-inspired interiors, floor-to-ceiling windows, streamlined Poliform Italian kitchens, ultra-comfortable bedrooms and 12-foot wood-lined outdoor terraces overlooking the Atlantic, all combine to give residents an added sense of well-being.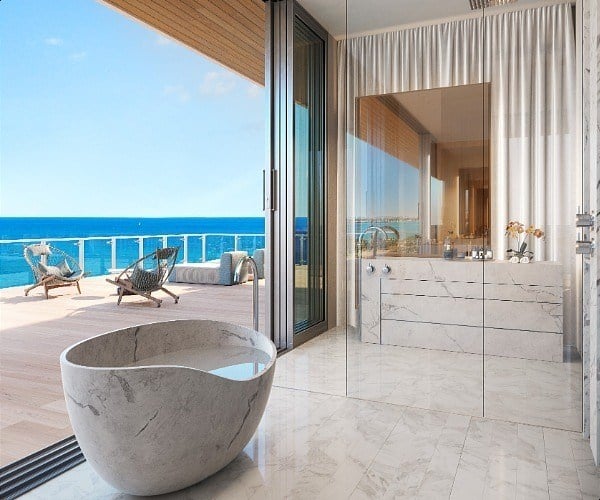 And as a resident of one of these luxurious condos, you'll enjoy enhanced services available for your convenience 24/7, including on-site concierge services, 24-hour valet parking , full 24-hour security; pool and beach attendants; gourmet concessions and craft cocktails served poolside and on the beach, on-call fitness trainers, spa treatment specialists and private chefs. In fact, everything you would expect from a five star hotel, but from the comfort of your own private home.
One of the standout features of the development are two spacious pools lined with beachfront cabanas.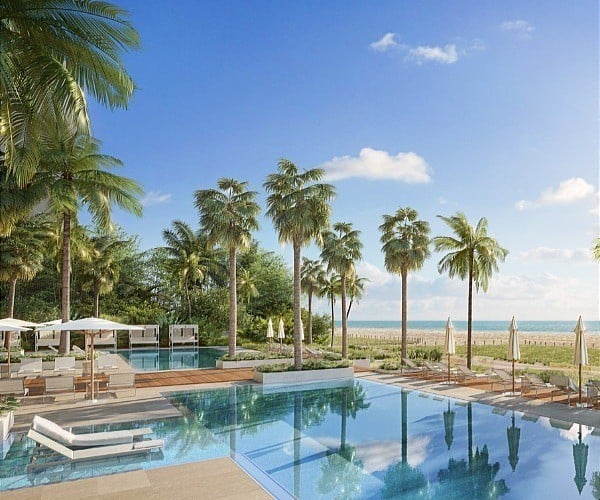 There's also a Wellness Pavilion spa with a thermal suite, aromatherapy saunas, steam rooms, and a secluded Vitality Bath surrounded by lush landscaping. 57 Ocean's state-of-the-art fitness center includes custom Technogym equipment as well as a personal training space for yoga and pilates.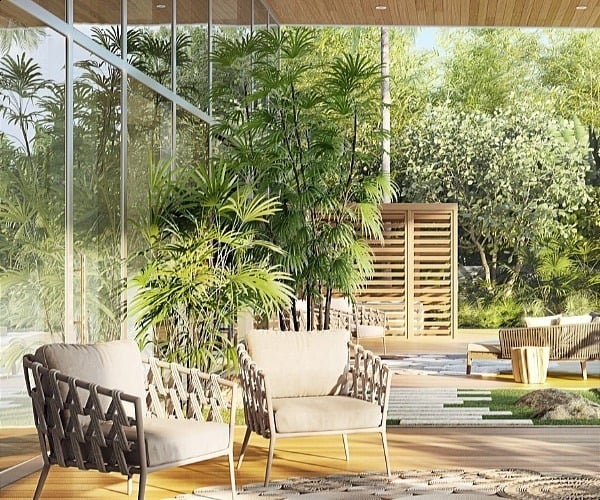 Those who like to entertain will love The Clubroom with its professional-grade chef's kitchen and cooking station for hosting private gatherings; Alternatively, the summer kitchen pavilion with its upscale grill area is an ideal space for hosting a barbecue with friends and family. 57 Ocean is also well equipped for families with young children, with a fully equipped play and entertainment area, allowing parents and caregivers to spend quality time with the little ones.
Meanwhile, those who prefer to spend time alone will appreciate the spectacular sunset terrace with its breathtaking panoramic views or, even quieter, the sunlit private library where you can quietly read, relax and admire the ocean.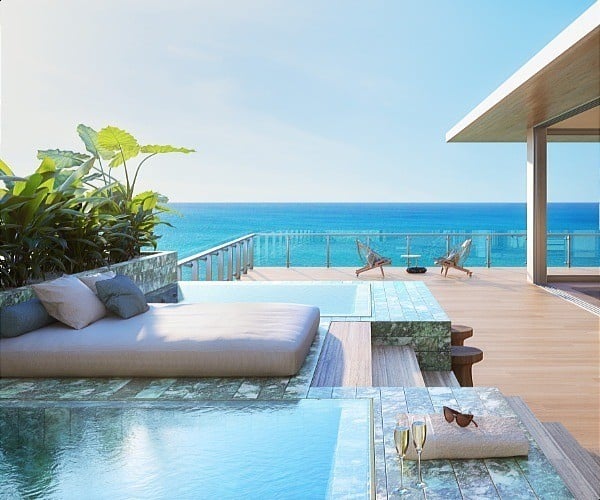 Living in an urban resort atmosphere like at 57 Ocean, Miami Beach, where everyone's needs are catered for, you'll cherish free-flowing spaces and openness, while always having a real city at your doorstep. This stylish accommodation allows you to leave the city and enjoy the tranquility of the beach – a special experience for the few able to live there.
The project was completed in September 2021. More information is available on the 57 Ocean Miami Beach website.
Disclosure: This post on 57 Ocean, Miami Beach is sponsored by Million and Up.