Jökulsárlón Glacier Lagoon is an incredible sight that you will want to experience on your trip to Iceland. It's a 5 hour drive (non-stop) from Reykjavik but well worth the trip and can be combined with a few nights away from the capital as there are many other attractions along the south coast of Iceland. You'll find it by driving along the country's main ring road, Route 1, between Höfn and Skaftafell – a beautiful drive with stunning views of waterfalls and glaciers along the way.
Located on the edge of Vatnajökull National Park in southeast Iceland, Jökulsárlón Glacier Lagoon is where Breiðamerkurjökull Glacier, one of the thirty outlet glaciers of the Vatnajökull Ice Cap, heads towards the sea. There is a large free car park near the lagoon, as well as a car park near the beach south of road 1.
The glacier once reached the Atlantic Ocean but has since retreated about 5 miles leaving a lake between the glacier's snout and the sea. Since the 1970s the lake is believed to have quadrupled in size and is now thought to be is Iceland's deepest lake.
My photographs here don't do it justice, but it's such an iconic and incredible sight that the location has been used for action scenes in two James Bond films (A view to kill and die another day), as well as in Lara Croft: Tomb Raider and batman begins. Fervent followers of the American television series Incredible race can also recognize it.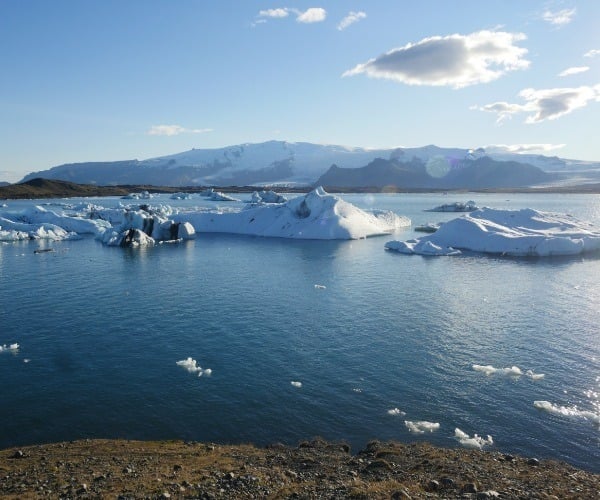 This is where Breiðamerkurjökull glacier meets water and calves. Calving is a process of glacial ablation (melting) that sees masses of ice break away from the glacier and enter the water. These icebergs can vary in size and float in the lagoon before completely melting into the lake or heading out to the Atlantic.
If we had more time we would have done one of the lagoon cruises, but after our visit to the Katla Ice Cave and our snowmobile adventure on Mýrdalsjökull, unfortunately there were not enough hours left in the daytime. You can take a cruise on a large amphibious boat or, for an experience that lets you get even closer to huge icebergs, ride on smaller RIB boats (zodiac tours). If, like us, you can't fit it into your schedule, you can still enjoy the show from the water's edge.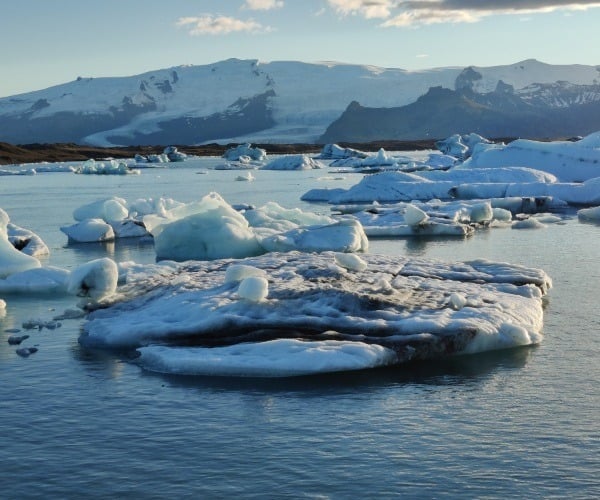 This breathtaking lagoon is also a rich marine habitat for gray seals. Sometimes they can be seen resting on the floating icebergs, but also keep your eyes on the lake as chances are you'll see a few swaying against the backdrop of beautiful arctic scenery.
Seals can apparently also occasionally be seen on Diamond Beach, although none were present at the time of our visit. Diamond Beach is just a 5-minute walk from the lagoon along a path that passes under the Route 1 bridge. have made their way to the ocean.
Of course, having experienced more melting, they tend to be much smaller by the time they are washed up on the beach.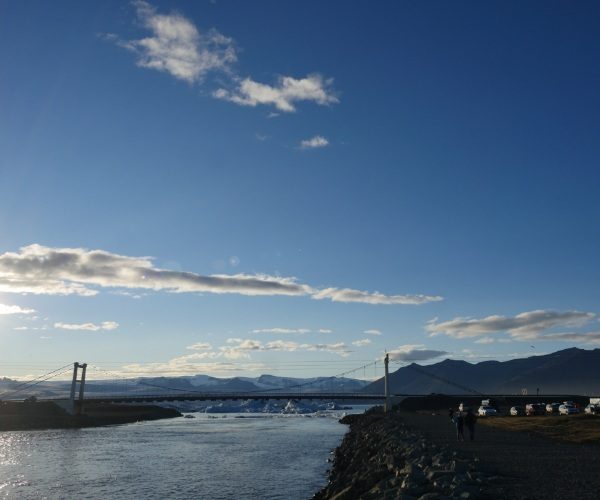 Nevertheless, all that glacial ice strewn across the coastline, battered by the waves of the sea, is in itself a spectacle.
Ice with a high bubble content tends to be quite white in color and translucent…
---
IMPORTANT NOTICE:
If you are reading this article anywhere other than A Luxury Travel Blog, chances are this content was stolen without permission.
Please note the web address above and contact A Luxury Travel Blog to let them know about this issue.
Thank you for your help in the fight against content theft.
---
…while the low-air ice tends to be crystal clear – almost glistening like jewels in the sand – hence the name Diamond Beach.
These clear chunks of ice, forever weathered by the receding ocean tide, are truly a sight, especially when the light catches them.
Their glassy texture contrasts beautifully with the black volcanic sand of the beach.
If you can, be sure to include Jökulsárlón Glacier Lagoon and Diamond Beach on your Iceland itinerary to see Mother Nature at her best. It's a long journey to get there, but it's a magical place that's well worth it.
My recommendation would be to not try to do the trip as a day trip from Reykjavik, but rather take a few days to travel along the south coast as there is so much to see in this part of Iceland.
Are you planning a trip to Iceland yourself? You can watch a video of our trip to Iceland here. You will see images of Jökulsárlón Glacier Lagoon and Diamond Beach between 4m 59s and 5m 12s:
Disclosure: Our trip to Iceland was also sponsored by Helly Hansen.