Auckland is a city that must be visited, primarily for its vibrant diversity and cultural flair. Known as the "City of Sails", and surrounded by the Hauraki Gulf, it offers a unique experience. Explore volcanic landscapes, black sand beaches and award-winning cuisine. Epic adventures are around every corner, and let's not forget the chic shopping. While that in itself is impressive, almost a stone's throw from Auckland, you'll feel like you've escaped to another distant world.
Waiheke Island
Waiheke Island is easily accessible with a short 40 minute ferry ride from Auckland CBD. Once on the ferry, you will immediately feel the pace slow down. In lifestyle and look, it's a world apart from Auckland. It's a nice blend of laid-back beach vibe with a sophisticated mix of culinary delights.
Famous worldwide for its wineries and vineyards, olive groves and beaches, it is one of the best islands in the world. A good reason for this could be the more than 30 vineyards nestled in the hilly landscape. Waiheke produces some of New Zealand's best red wines, and there's nothing quite like enjoying a drink while watching a beautiful sunset over the ocean.
With a nickname such as "Wine Island", wine-hopping on Waiheke Island is a must. There are of course options to do it by bike, but why not feel part of the world you enjoy on a classic car tour? Let your host pick you up in a glamorous 1950s Cadillac, and all you have to do is relax in style and take in the panoramic coastal views.
Waiheke Island is all about enjoying the epitome of the good life. There is always something to see and do with events, festivals and art exhibitions. The island exudes a strong sense of creativity and many creative people have made it their home. Every few years, a special outdoor exhibit called Sculpture on the Gulf transforms Matiatia's coastal walkway into a walk and play path. Feel the excitement of a child when you find a hidden sculpture in nature that brings you makes you think and reflect. Savor exploring the island on foot with majestic views along the way.
The island is as famous for its wine as it is for its beaches. Oneroa Beach is sought after for its white sand and calm blue waters. Spend the day swimming, kayaking or paddle boarding. It is the perfect place to relax with family and friends with the Pohutukawa trees providing shade and plenty of play areas for children.
Onetangi Beach is the longest, whitest and has the tallest Pohutukawa trees. Popular for swimming, fishing and surfing, it is lined with bars and restaurants. On the shores of the beach is Charlie Farleys, a bit of a Waiheke Island institution. Pop in for a tuna poke bowl and incredible views.
Rangitoto Island
Rangitoto Island is considered Auckland's most iconic island for its distinctive symmetrical cone and stunning location. Created from years of volcanic activity and hardened lava, this is a unique place to explore in New Zealand. A quick and scenic 25-minute ferry ride from Auckland, this little slice of heaven is popular with hikers and nature lovers.
You would expect a dormant volcano to have a harsher landscape, but Rangitoto Island is surprisingly green and beautiful. It is home to over 200 species of flora and abundant birdlife and is the largest Pohutukawa forest in the world.
There are hiking trails all over the island, but the most popular is Rangitoto Peak. Walk on trails through centuries-old lava fields (sometimes making you feel like you've landed on Mars) and lush forests. Although the summit is not far, the terrain is tricky so it is important to be cautious and careful. The panoramic views at the top are spectacular. You'll spot islands dotted in the Hauraki Gulf and Auckland in the distance.
For a different kind of adventure, you can take a slight detour and explore the dark world of the seven caves and lava tubes on the way to the summit. Or you can make a whole day of it and kayak to Rangitoto Island, and enjoy a beautiful sunset over the water on the way back to Auckland.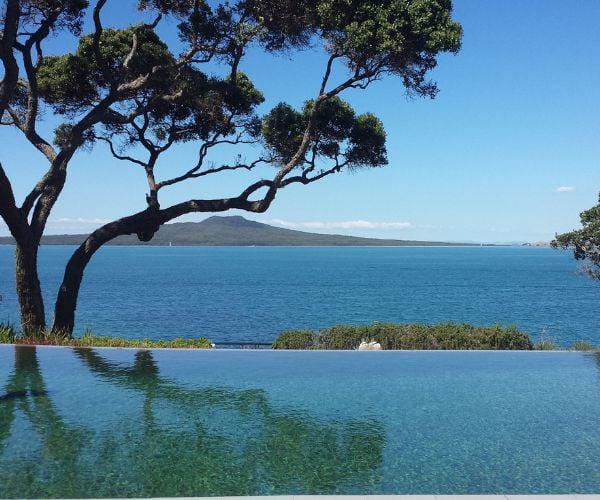 Great Barrier Island
The biggest attraction on Great Barrier Island is the night sky. Looking up takes on a different meaning here. The island is off-grid and designated as an International Dark Sky Sanctuary. With minimal exterior lighting, only the billions of stars in the Milky Way light up the dazzling night sky. There are few places in the world where you can sit and relax in silence feeling like you have a whole universe to yourself.
---
IMPORTANT NOTICE:
If you are reading this article anywhere other than A Luxury Travel Blog, chances are this content was stolen without permission.
Please note the web address above and contact A Luxury Travel Blog to let them know about this issue.
Thank you for your help in the fight against content theft.
---
About a thousand people live on the island and depend on renewable solar energy and freshwater harvesting. Part of the charm of traveling to Great Barrier Island is that you feel like you're experiencing New Zealand as it was decades ago. Some artists live there and you can buy beautiful pottery or wood carvings.
Nature reigns supreme and there are many hiking trails with stunning forest scenery and breathtaking views. At Great Barrier Island, you disconnect from the world and reconnect with nature. There are many ways to recharge and rejuvenate the mind, body and spirit.
Explore the many sandy beaches or hidden coves and find a private spot for the day. Ride the waves at Oruawharo or kayak around the spectacular coastline. Discover the mermaid pools and lose yourself in time floating on your back as the sun caresses your face. Go on an adventure on the Kaitoke Hotspring Track and take a relaxing dip in the hot springs. Walk to Awana Falls and swim in a natural pool. Visit a local brewery and sample some beer or head to Port Fitzroy for the best burger with a view.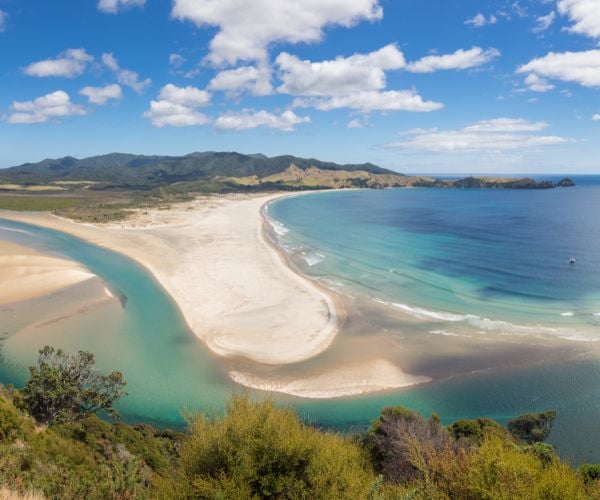 Exclusive experiences and secluded getaways await you just a short distance from Auckland City. Venture off the beaten path to find hidden gems, unparalleled beauty and pure relaxation.
Andrew Morten is the founder of TravelEssence. TravelEssence creates tailor-made and tailor-made trips to Australia and New Zealand.
If you would like to be a guest blogger on A Luxury Travel Blog to raise your profile, please contact us.