When you think of Iceland, you tend to think of glaciers, geysers, volcanoes, earthquakes, and dramatic landscapes. People rarely think of tomatoes. However, when you stop to think about the country's endless supply of geothermal energy, it's easy to see its potential. As greenhouse cultivation continues to expand, taking advantage of the country's natural resources, production also increases. And although the country's production is tiny compared to that of major producers such as China and India, 2020 alone has seen an increase of more than 280% in Icelandic tomato exports. In addition, 40% of Icelandic tomatoes come from one place: Friðheimarlocated 1 hour east of Reykjavik, where there is also a tomato-themed restaurant inside one of the site's large greenhouses.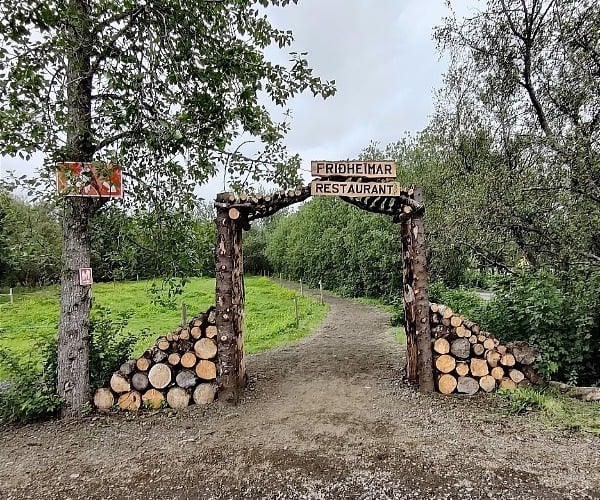 Greenhouse cultivation has been practiced in Friðheimar since 1946 and the current owners – horticulturist Helena Hermundardóttir and agronomist Knútur Rafn Ármann – have been living there with their children, who are also active participants in the business, since 1995.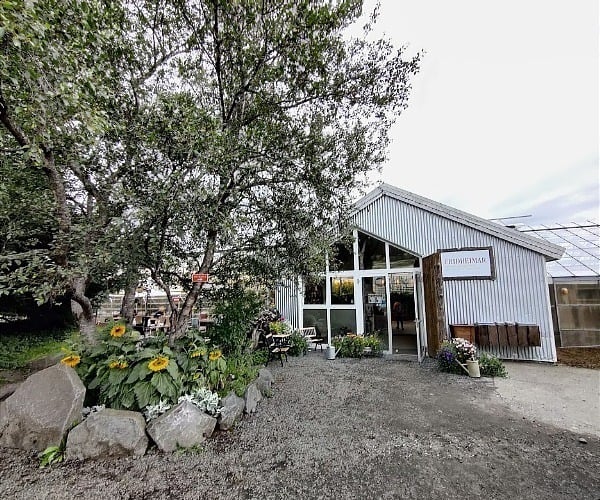 The Friðheimar Experience is so popular that advance booking is strongly advised. Note that they will hold your reservation for 15 minutes if you are late but, if it is longer, you must call them and notify them of any delay if you wish to keep your table. Of course, it's fair to warn them, but demand is high so be sure to offer this family business that basic courtesy if you don't wish to lose your table! We had just come from our Arctic Rafting adventure, which was less than a 15 minute drive away, so judging the right time wasn't too difficult. If you are coming from Reykjavik, I would plan an hour and a half, just to be sure.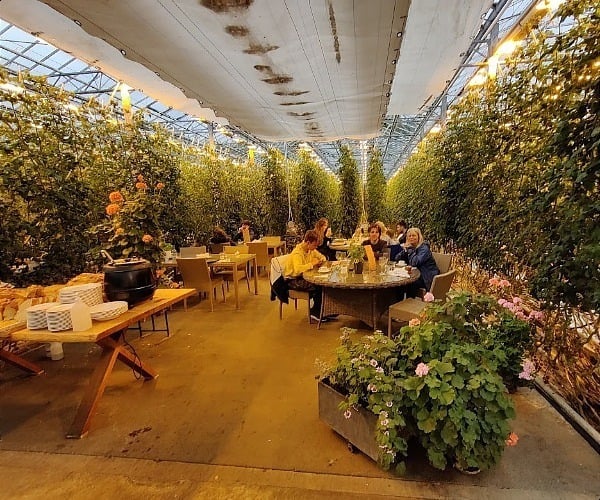 After being shown to our table which was located in an open space in a huge greenhouse, with aisle after aisle of tomato plants nearby, we were greeted by Sonia who gave us a very informative introduction to Friðheimar. We learned how Iceland's many rich natural resources combine to provide optimal conditions for growing tomatoes. A borehole just 200 meters away provides the perfect geothermal heating system, supplying hundreds of thousands of tons of hot water every year, at a temperature of 95 degrees centigrade, helping to provide the optimum temperature conditions for the production of fruits.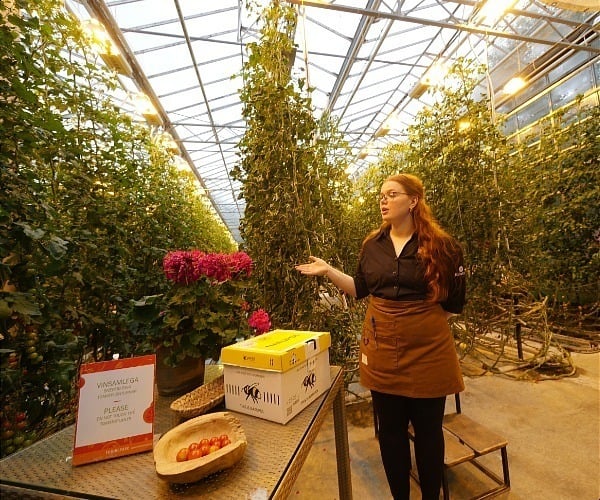 Iceland's abundant 'green electricity' generated by hydroelectric and geothermal power stations provides power for Friðheimar's high-powered sodium lamps which operate for 14 hours a day in summer and for at least 17 hours a day in summer. winter. There are also carbon dioxide tanks to give everything a little boost, along with CO2 levels in each greenhouse around double the levels you would normally expect.
When it comes to taste, the most important factor is the quality of the water. The plants are watered with the same water that Icelanders drink – quality is important because tomatoes are around 90-92% water. and therefore better water means better tasting tomatoes.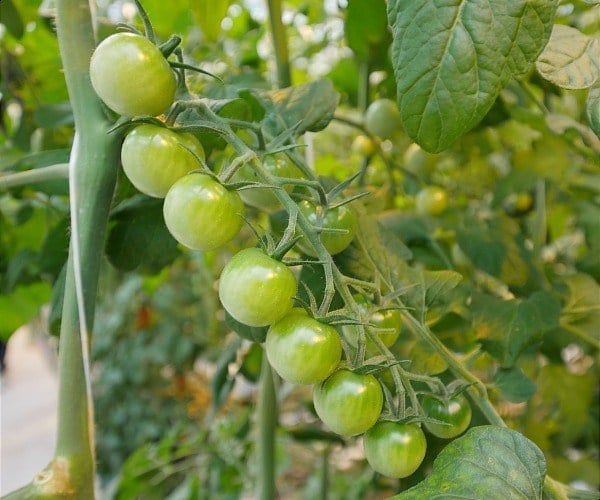 Friðheimar does not use any pesticides because in Iceland there are not many insects or flies. Instead, they use a biological pest control system where the "good flies" from the Netherlands (Macrolophus callignosus) eat the eggs of the native "bad flies", which gives a good balance between these flies; it is a fairly simple but very effective system.
We learned that Friðheimar is also very close to the markets, so in the morning the workers try to pick the reddest tomatoes from the plants, and the packers usually send them out the same day. Friðheimar branding is used on the packaging, along with the colors of the Icelandic flag so you know its local, and owners Knútur and Helena have gone a step further and included photos of themselves, along with additional information to bring the company closer to the consumer.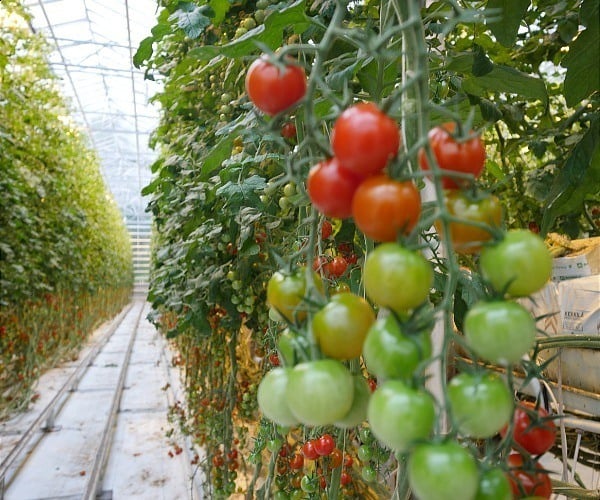 The plants – there are 27,000 plants in 9 greenhouses – grow to around 9 months and 9 meters in length and after these 9 months they are sent to local farmers for composting. It's good for Friðheimar to get rid of it, but also for the farmers to get the compost.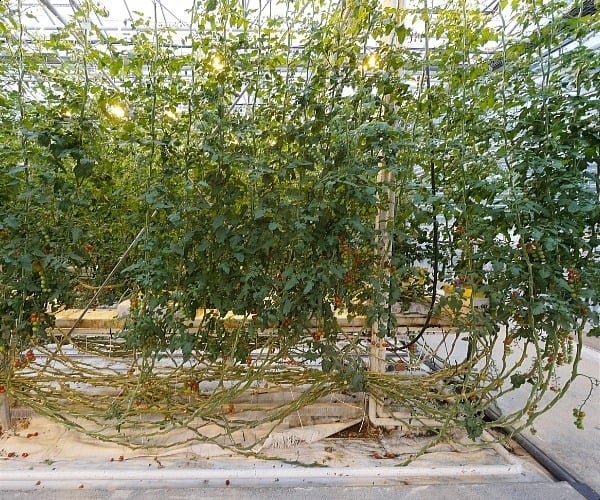 It all starts in the nursery where the plants are grown there from seed for about 6 weeks. After these 6 weeks they are moved to the main greenhouse where they grow at a rate of about 25-30 centimeters per week (pretty fast!). The plants are twisted and lowered weekly, and the three lowest branches are removed – if left, these branches take away all the energy that needs to be distributed throughout the plant. There should be 18-20 leaf branches per plant for optimal production.
There are only 20 greenhouse workers looking after 27,000 plants and all the picking is done by hand, twice a day. The best workers, however, are bees, also imported from the Netherlands. About 1,200 bumblebees work on the site and each bee can pollinate up to 2,000 flowers per day. When they pollinate the flowers, they leave a scent, so they know not to go to the same flower more than once. The natural lifespan of the working bumblebee is only about 6-8 weeks, while the queen lives about a year. Perhaps unsurprisingly, male bees fly and do no work.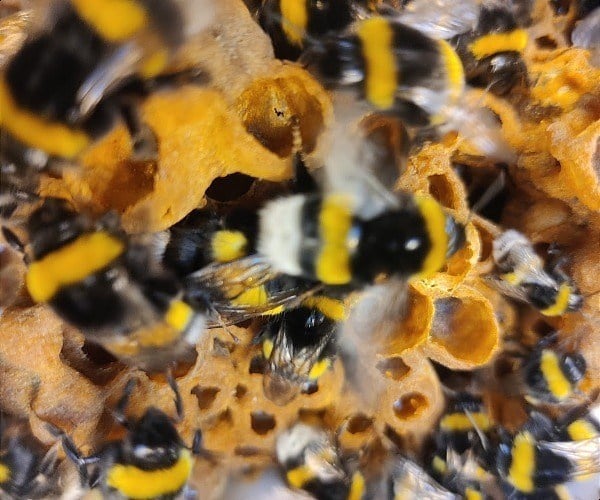 The whole operation is also facilitated by incredible technology. Control computers in each greenhouse monitor heat, humidity, carbon dioxide and lighting. Control computers are also linked to fertilizer mixers which water the plants on a predetermined schedule. Rooftop weather stations get information about wind speed, wind direction, temperature and sunshine. And all these devices are in turn connected to the main computer, which is itself connected to the Internet. This allows the couple who own Friðheimar to go online, wherever they are in the world, and monitor status, change settings, and control watering.
After learning all about Friðheimar, which was truly fascinating, it was time for the main event… lunch!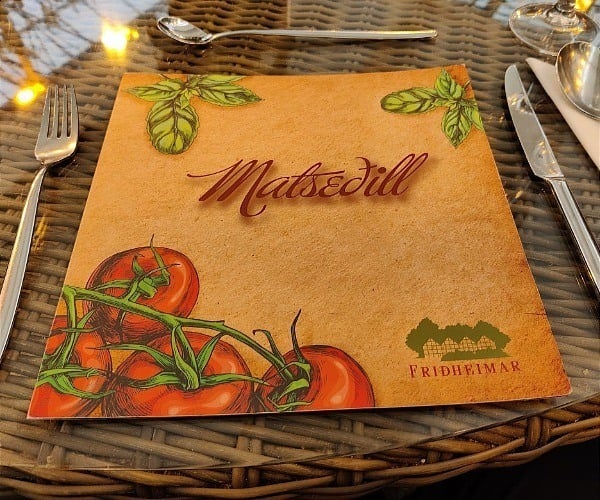 Our server was Lorenzo and, as you will have already understood from the title, everything served in Friðheimar uses tomatoes in the ingredients. And that includes drinks!
In addition to the obvious Bloody Mary tomato drink, you can choose from drinks such as
Healthy Mary (a refreshing drink made with green tomatoes, lime, honey and ginger, served chilled with sparkling water), Mary Poppins Baby (cucumber, mint and lime sorbet, filled with sparkling water) and even Friðheimar's own tomato beer on tap, brewed from red or green tomatoes.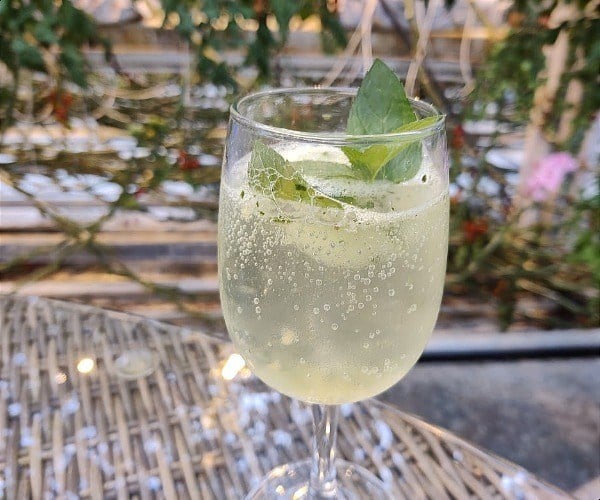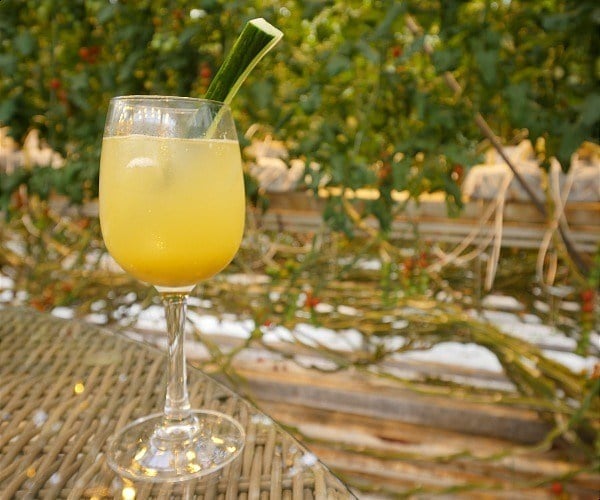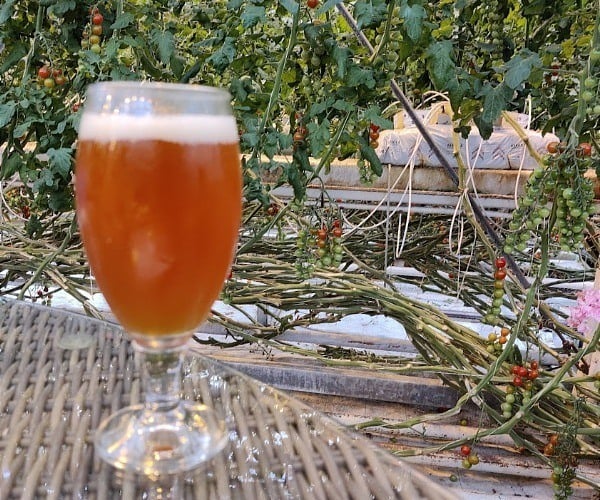 Friðheimar's signature dish is their tomato soup. It is served buffet style with homemade bread, sour cream and cucumber salsa. Guests who choose this option can help themselves to as much soup and bread as they wish.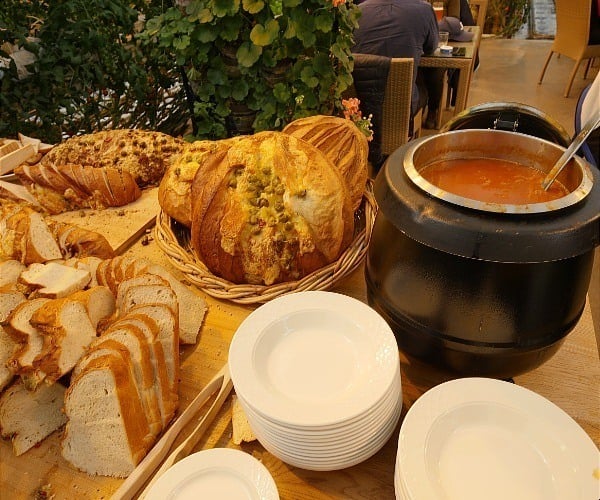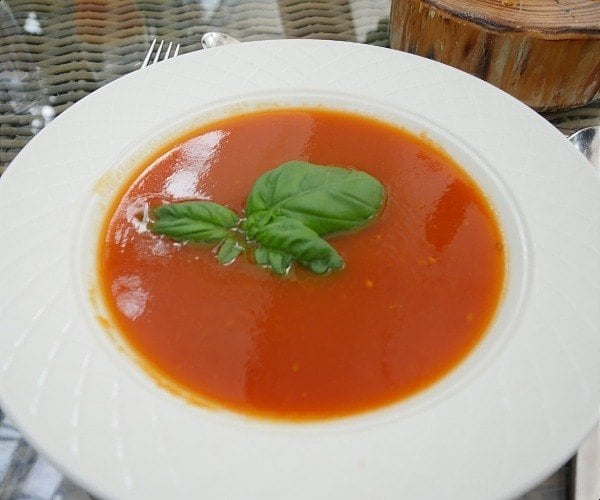 But there are also other tomato-based dishes to choose from, such as fresh mussels from Breiðafjörður – a large, shallow bay in the west of Iceland – cooked in Friðheimar's special tomato and seafood sauce .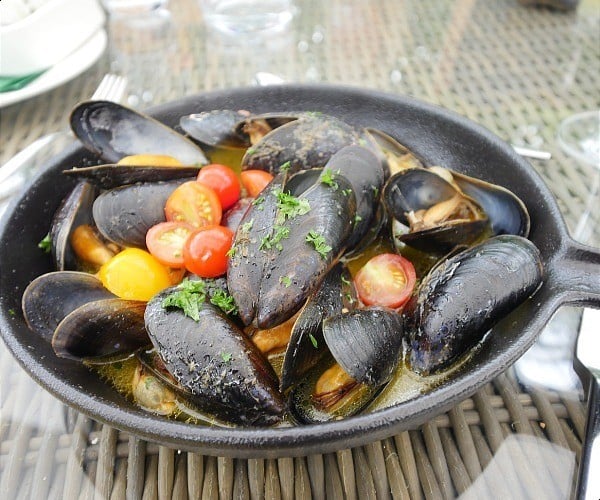 And particularly tasty are their ravioli with homemade pasta sauce and pesto.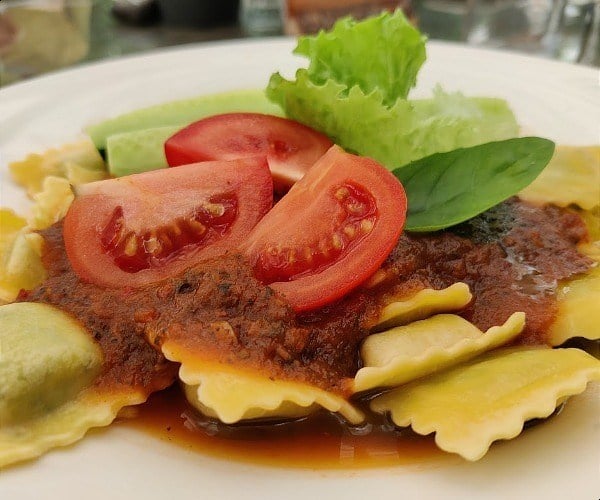 Homemade bread from the buffet is included with all main courses.
And then there are the desserts…again, all tomato-based, of course, including this delicious cheesecake topped with a tomato jam made with green tomatoes, cinnamon and lime.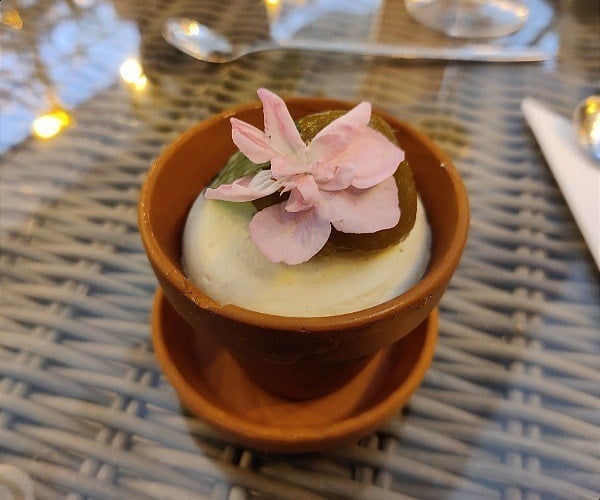 Alternatively, there is the green tomato, apple and cinnamon pie served with whipped cream.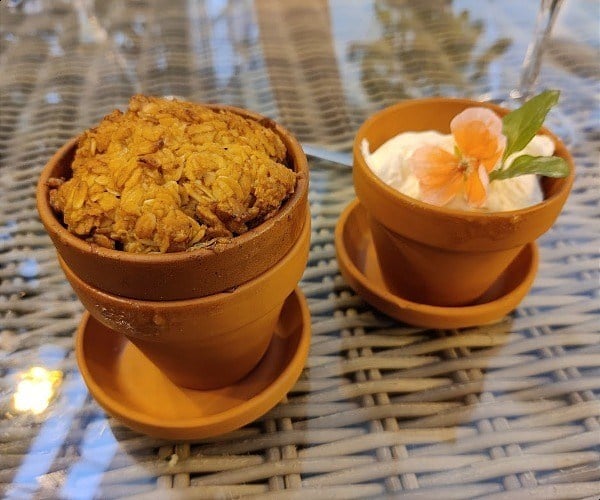 Whatever you choose, you are sure to be delighted. It's a dining experience like no other!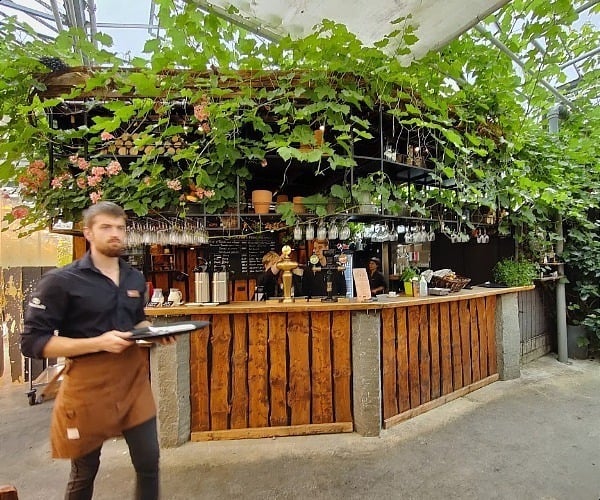 We loved our time in Friðheimar – it was a fun and memorable adventure that we highly recommend adding to your itinerary…just make sure to book ahead as it can be very popular, especially during the main season .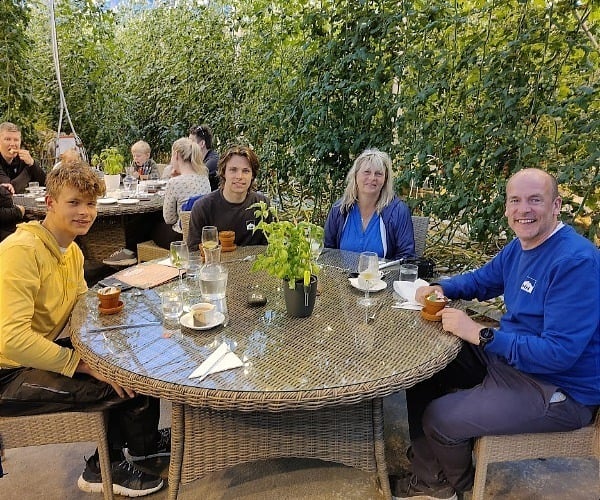 And before you leave, don't forget to visit the little tomato shop where you'll find a variety of food products that you can take home as a souvenir of your visit.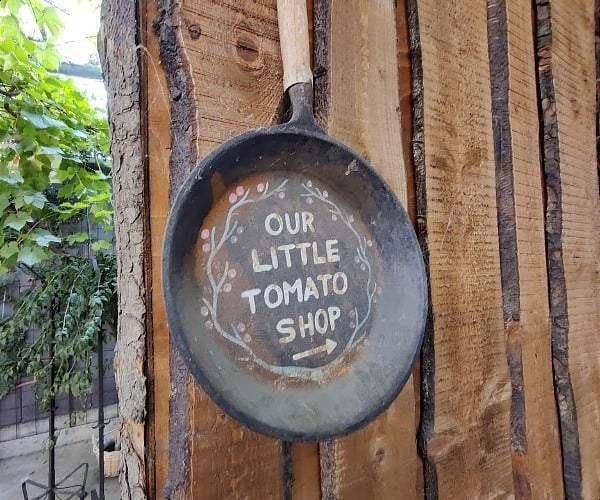 Master Chef Jón KB Sigfússon developed and designed all food products for the boutique and restaurant. He has many years of experience all over the world and has cooked for many Heads of State.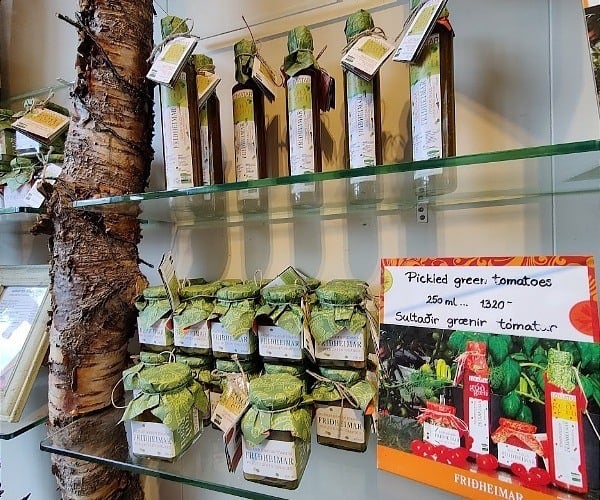 Are you planning a trip to Iceland yourself? You can watch a video of our trip to Iceland here. Images of Friðheimar can be seen from 3m 30s to 3m 38s.
Disclosure: This post is sponsored by Friðheimar. Our trip to Iceland was also sponsored by Helly Hansen.