By Paul Johnson on Sep 30, 2022 in Attractions, Europe, Family Travel, Going Out, Iceland, Leisure Travel, Regions, Road Travel, Specialty Travel, Western Europe
One of the activities that our children enjoyed the most during our trip to Iceland (and so did we, to be fair!) was our buggy safari in the Blue Mountains with Quad Safari – the number 1 mountain bike and buggy operator in Iceland. This is your chance to enjoy all trails, thrills and stunning views of the Blue Mountains in an amazing 4×4 buggy, tackling gravel roads, rocky trails and steep inclines . I can warmly recommend it as a really engaging and fun way to explore some of the scenery around Reykjavik. Here's what you can expect from the tour.
First, you will need to be at Safari Quads Base Camp at Lambhagavegur 19, 113 Reykjavik at least 10 minutes before your tour departs. If you just put "Safari Quads" in google maps it will find it for you and there is plenty of parking once you get there. If you prefer, you can request to be picked up or dropped off at any of the bus stops in downtown Reykjavik.
Inside, a reception area, a space to equip yourself and a café upstairs.
There is even a "blackboard wall" where people of all nationalities have recorded their experiences of Safari Quads tours for posterity. Almost anyone can participate – all drivers must be at least 17 years old and hold a valid driver's license in their home country. Passengers do not need a license (unless they want to take turns driving) and must be at least 6 years old.
All you need to bring with you is proper outerwear (layering is recommended, especially on colder days) and sturdy shoes, as well as an adventurous spirit and a willingness to have fun! Safari Quads provides warm overalls, rain gear (if required), balaclavas, helmets and gloves, and you're good to go! Well almost…
You will be assigned a professionally trained Safari Quads guide who knows the area well and will take you out of base camp and onto the trails. We had Alex who was super friendly, full of energy and great fun. He also had an excellent command of English and was reassuring and easy-going. Before leaving, Alex walked us through how to operate the 4×4 buggies so we were ready to hit the road. The vehicles are fully automatic, easy to drive, and come with safety and design features such as seat belts and a roll cage.
On leaving, the first short stretch of our trip was on real roads (these buggies are road legal)…
…but soon we were on gravel roads among lava fields on the outskirts of Reykjavik. It was great fun for our sons, especially because our eldest hadn't had his driving test at home for a long time.
The first part of the ride is very comfortable, consisting of wide tracks with loose gravel. It's easy enough that you can afford to look around and take in the beautiful scenery of the Blue Mountains as you drive.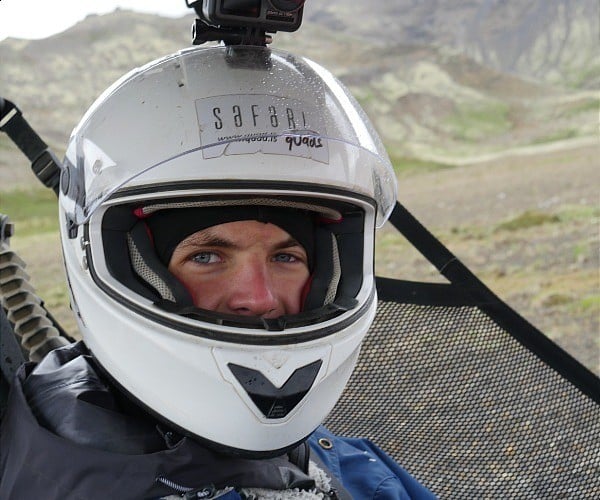 Alex made occasional stops so he could photograph us and the rest of the group. It was a small group of only 5 or 6 buggies so the tour had a personal feel about it.
We had to stay in single file and keep a safe distance from each other as the buggies picked up surprising speed, even over rough terrain, which gave one hell of an adrenaline rush!
We admired the beautiful surroundings as we zipped by, eventually passing Hellisheiði Power Station – the largest geothermal power station in Iceland and in fact one of the largest in the world – before reaching the hot springs in the geothermal area of Hveradalir.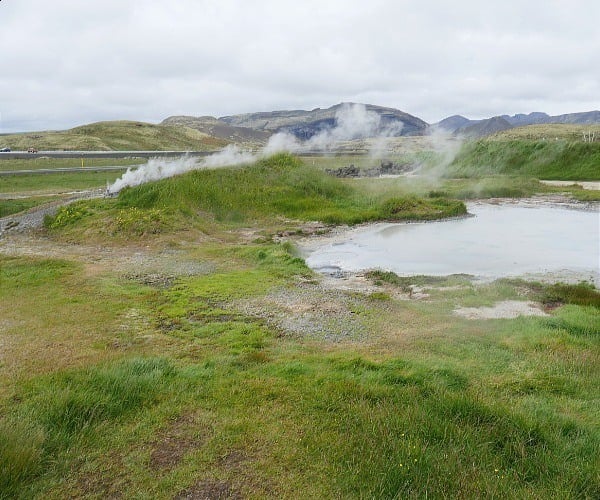 ---
IMPORTANT NOTICE:
If you are reading this article anywhere other than A Luxury Travel Blog, chances are this content was stolen without permission.
Please note the web address above and contact A Luxury Travel Blog to let them know about this issue.
Thank you for your help in the fight against content theft.
---
The hot springs here are part of the Heillisheidi hot springs area, which is one of several high temperature areas in the Hengill Volcano area.
Hengill is an active central volcano and its volcanic fissure system extends from Selvogur on the Reykjanes Peninsula in the southwest and extends 50-60 km northeast of Lake Pingvallavatn.
The stoppage was another chance for Alex to try out his photography skills as he instructed us to hit the zone and look like we were having fun (it honestly was!).
On our return to base camp, we took a slightly different route, crossing the Suðurá stream near Sandskeið airfield for a bit more excitement.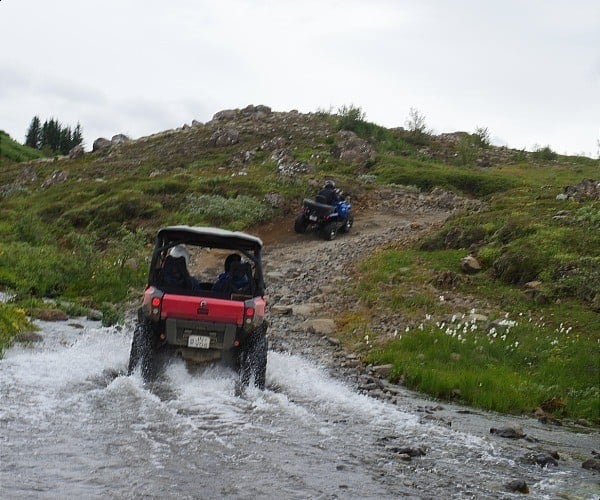 The strollers themselves have great power and traction, which means they work very well in rough terrain. Even if you've never ridden one of these buggies before, you'll get used to them very quickly and I'm sure, like us, you'll love the adventure!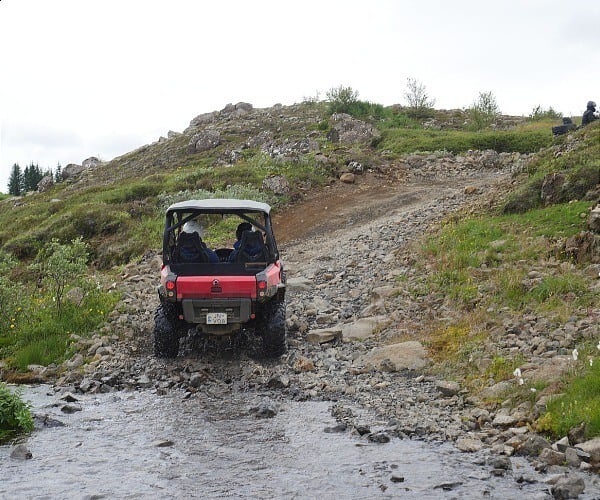 The tour promises two full hours on the buggy trails, but in reality I think we went much longer, so book at least a full morning or afternoon just in case.
The Strava map below shows the route we took from Hveradalir to the Safari Quads base. (I had forgotten to follow the exact route at the exit!)
Are you planning a trip to Iceland yourself? You can watch a video of our trip to Iceland here – footage of our time on the buggy safari can be seen between 1m 06s and 1m 26s:
Disclosure: This post is sponsored by Quad Safari. Our trip to Iceland was also sponsored by Helly Hansen.