For a different Icelandic experience, we highly recommend In the glacier which can be visited as part of a day trip from Reykjavik or, as we did, by car to Klaki Base Camp (or to Húsafell in winter).
The easiest way to reach base camp from Reykjavik is to head north along the ring road, then follow route 50 when you reach the tunnel towards Borgarbyggð. For some reason our navigation system thought we might prefer a more adventurous route and took us along the maybe slightly more direct routes 30 and 550. It was fine for the most part, but the final 40 kilometer stretch along the F550 (one of Iceland's mountain roads) was a bit hairier than we had anticipated so early in our stay in Iceland!
Whichever way you choose to get there, you won't see the glacier at first, but you will see signs of its earlier presence. Markers that describe the maximum extent of the glacier every 20 years highlight the rapid retreat of the glacier over time.
Between the 1940 and 1960 markers is Klaki Base Camp. Whichever approach you take, the final stretch of the journey is very rugged and a 4WD vehicle is a must no matter what time of year you are visiting.
It's a simple building where you can pick up or buy tickets for this rather unique experience. This is also where you can equip yourself with a suit to prepare for the experience.
If you came dressed for Iceland's changeable weather, with warm clothes, raincoats, and sturdy shoes, you should be reasonably well prepared, but you might like to take advantage of their lightweight, waterproof shoe covers. There are parts of the tunnels that can then get quite wet underfoot as the meltwater makes its way through the glacier, so I would definitely recommend them.
As the name suggests, Into the Glacier takes you through man-made ice tunnels in Langjökull, Iceland's second largest ice cap (after Vatnajökull which is by far the largest and around eight times larger) and, interestingly, the only private glacier in the world. It is open all year round and is the only glacier tunnel built specifically for visitors, not only in Iceland, but in the world. It is also the largest artificial ice tunnel in the world.
---
IMPORTANT NOTICE:
If you are reading this article anywhere other than A Luxury Travel Blog, chances are this content was stolen without permission.
Please note the web address above and contact A Luxury Travel Blog to let them know about this issue.
Thank you for your help in the fight against content theft.
---
But first you have to get there. Luckily, your ticket includes transportation to the Ice Camp on former NATO specialist missile vehicles that have been specially adapted for this unique attraction. It follows a GPS-guided route to the tunnel – the crevasses determine the route taken and this changes every year.
Inside these 8×8 monster trucks it's pretty comfortable, but you have to use seat belts because it can get a little bumpy.
For the driver, it's apparently an even bumpier ride. From inside his cabin, he can monitor tire pressure via an app and adjust the inflation level based on the changing terrain he finds himself driving on.
The truck took us to a place 1,260 meters above sea level. During the trip, we were accompanied by two English-speaking Icelandic guides who shared their knowledge of what defines a glacier and how glaciers form. We learned that there are 300 glaciers in Iceland (including 200 in Vatnajökull alone) and about 7 or 8 masses of ice.
The guides had a fairly dry sense of humor – something we encountered on several of our visits – and told us, as we ventured out onto the ice, that there were three different animals to watch out for – arctic fox, ptarmigan and middle-aged men who are stuck on snowmobiles and need to be rescued.
But there are also serious messages as we pass even more markers that show how far the glacier has retreated every 20 years – apparently more than 100 meters since 2019 alone. We are still reminded of the climate change message when we hear that near Langjökull stood Okjökull, a glacier that was declared dead in 2019. They even had a funeral for it – you might have heard about it in the new.
Once our trip was over, it was time to enter the glacier. As you can see, it looks rather disappointing from the outside. However, that all changes once inside.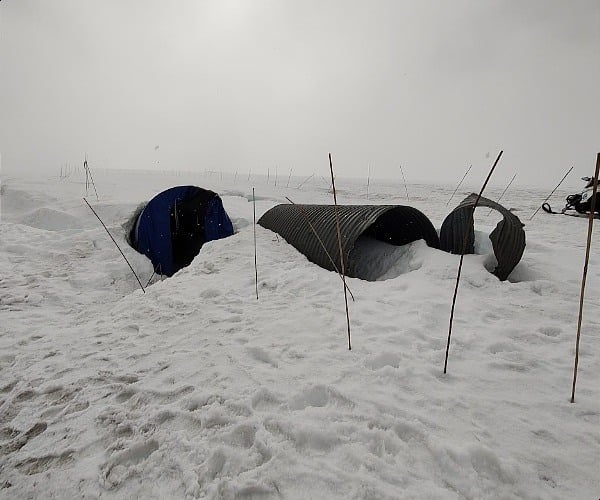 The first part of the tunnel is quite dark and reinforced by a large cylindrical metal structure.
Once properly inside, you head into a network of LED-lit tunnels measuring 550 meters in length and up to 40 meters below the surface of the ice.
Soon enough, we stop to put on the crampons. They're easy to slip over your shoes – just adjust them in the front, then stretch them under your shoe until they can be secured to your heel…and you're done! It just gives you a bit more grip as you cruise through the tunnels.
Walking even further we reached a sign where we stopped to take pictures and learned more from our guides.
As we continued to explore the tunnel, there are places where it gets really, really wet – dripping from above and underfoot. If you are visiting in the winter this will of course be less of a problem, but you may need to conclude more!
A small offshoot from the main tunnel takes you into a small chapel, with a seating area. Who knew you could get married under a glacier?!
Look closely at the ice and you will see trapped ice bubbles. In the chapel, there are clusters of bubbles that have taken on rather amusing formations. The one that is said to look like a fish…
…and another that, if you tilt your head enough, displays a smiling face.
There is also an area on the circuit where you can see a crevice from below, where the ice is quite dirty due to debris buildup in the crevice.
You mostly rely on your guides to learn more about the glacier on the tour, but there are one or two panels giving pictorial insight into the glacier's past and future.
Apparently when the tunnels were first created, two separate tunnels were created and the idea was that they would join together to create a circle. Their math didn't quite work out and they ended up creating more of a heart shape instead!
Would we recommend Into the Glacier? Most certainly, yes! Not only is it a truly unique experience, but it was fun and entertaining for our whole family, as well as interesting and educational. Although the whole experience from arriving at base camp to returning is around 3-4 hours, you are only walking through the tunnels for around an hour of that time so this is also within reach of most young children.
The following Google map shows the meeting point in Húsafell, where you will meet if you are visiting in winter.
If you are traveling in the summer you will start from Klaki base camp and the following Strava map shows the exact route we took from base camp to the tunnel and back.
Are you planning a trip to Iceland yourself? You can watch a video of our trip to Iceland here. You'll see footage of Into the Glacier between 30 and 54 seconds in the video:
Disclosure: This post is sponsored by In the glacier. Our trip to Iceland was also sponsored by Helly Hansen.