Is it an art gallery? An elegant homage to Art Deco architecture and sophisticated interiors? An elegant ode to the Jazz Age? Or a cozy boutique hotel with seven suites?
In reality, Mantis #5, which takes its name from its address at 5 Brighton Drive in the posh seaside suburb of Summerstrand, is all that. On South Africa's Sunshine Coast, it is just a four-minute walk from the beach and the Indian Ocean. Although Port Elizabeth, located on Nelson Mandela Bay, is no longer Port Elizabeth. As part of the Africanisation process, it is now Gqeberha, although most road signs still say Port Elizabeth.
Purchased and lovingly restored by Adrian Gardiner, the hotel now houses over 200 pieces from the ecologist/entrepreneur's private collection. It's worth sitting in the living room and leafing through the collection guide.
Home
No 5 arranges pick up from Port Elizabeth Airport. Much of the short 10 minute transfer runs along the coast. With only seven suites, the receptionist has time to show us to our suite on the first floor.
The following
Large mirrors, polished floors and numerous spotlights create the atmosphere of an Art Deco club. There's even a foyer bar entrance with glasses waiting on the shelves. There's a grandeur to the floor in rectangular wooden blocks, with shades ranging from light cedar to mahogany contrasting with sumptuous cream carpets decorated with circles of soft colors.
Two sets of double glazed doors open onto a large balcony whose slender polished chrome balustrades evoke the deck of an ocean liner. Another Art Deco touch. Cleverly, a large rotating television serves as a partition between the living area and the bedroom.
The bathroom
It's got all the shiny tiling, spaciousness and bright lights of a star's dressing room in an Art Deco theatre. Except there are his and hers sinks in this generously proportioned bathroom. There is a brightly colored toy boat that has symbolically washed up in the bath. Showers are preferred as the water shortage in Port Elizabeth continues.
Facilities
Stepping into the 30-seat Jazz Room is like stepping into New York City's Harlem in the 1920s. Piano tinkles, bass vibrates, trombone sings and drums improvise the percussive beat as the soundtrack evokes the jazz age. Like all the rooms in n°5, this restaurant is an art gallery. A wall pays homage to the musicians of this racy era of jazz and flappers. On the opposite wall is an eclectic collection including a Warhol. The waiters, elegant in their dark vests and white shirts, again evoke the American Art Deco era. Especially with waffles and bacon drizzled with maple syrup on the breakfast menu. The lunch menus are popular with locals who come for business, perhaps using the meeting room for a meeting. A vegan bolognese is one of the highlights.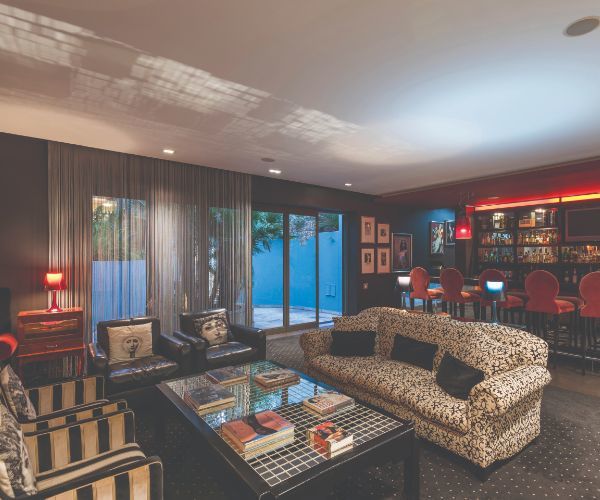 A visit to the Champagne Lounge, which serves a selection of French champagnes and local sparkling wines, is an ideal start to an evening of creative South African cuisine. Facing the Indian Ocean, Port Elizabeth has long welcomed and assimilated the flavors of the world. After dinner, attention might turn west to Cuba in the Cigar Lounge.
The garden, with a small pool and sun loungers, quietly creates the landscape of the Eastern Cape bushveld with boulders weighing up to four tons and plantings of aloes, strelitzias, erythrinas and cycads.
A very unique feature is the private cinema, which is modeled, with permission, on the cinema at Prince Charles' London residence at Clarence House. Other on-site facilities include a spa and gym.
---
IMPORTANT NOTICE:
If you are reading this article anywhere other than A Luxury Travel Blog, chances are this content was stolen without permission.
Please note the web address above and contact A Luxury Travel Blog to let them know about this issue.
Thank you for your help in the fight against content theft.
---
Location
For customers, Port Elizabeth is often the gateway to the Eastern Cape. Many are on their way to another Mantis property, Founders Lodge, which is particularly focused on protecting endangered rhino species. embodying the philosophy "Man and nature together are sustainable". Many guests seek to see two of the Big Seven, set sail on whale and shark-watching boats, before seeking to tick off the Big Five on a game drive.
Yet, as Port Elizabeth seeks to reinvent itself from its past as industrial docklands, there is plenty to keep guests busy along a spectacular Indian Ocean coastline. Mosaic Tourism tours offer a variety of itineraries to showcase the history and places of Port Elizabeth. Route 67, celebrating Nelson Mandela's 67 years of political activity, is a walking tour that includes 67 works of art.
Or you can take a tour of the historic center of Port Elizabeth visiting sites that recall the British presence in the 19th century.
On the outskirts of town, a tour of Walmer Township with one of its residents provides insight into the benefits and challenges of the huge community.
Along the coast, visitors can circumnavigate a dangerous coastline and dozens of shipwrecks.
Other little touches
Across the road from No 5 there is a three bedroom villa which guests can reserve for their exclusive use.
Again, the villa is an art gallery. Adrian Gardiner, a generous patron of the arts, purchased a collection from Duncan Stewart's presentation of the 2010 FIFA World Cup hosted by South Africa. Football stadiums shaped like food bowls and a dung beetle pushing a football raise interesting questions about pre-World Cup spending choices.
The cost
Accommodation at No 5 starts from £160 per room, per night for two people sharing, including breakfast.
Currently there is a private cinema package, available at £82.50 depending on the exchange rate, including a romantic dinner for two at the Mountbatten Theatre, with a bottle of sparkling wine, followed by a film.
The best piece
Having time to appreciate the artwork is a luxury. Walking on until mealtime, the nostalgic road scenes of gas stations, motels and stopping for a cold beer in Herk Serfontein become evocative of a bygone era. Jazz age images are also preferred.
It's time to browse the catalog and appreciate the stories behind the art, for example the strange story behind William Kentridge's photo of a rhinoceros, inspired by a Cambridge University tale.
Although he was not enrolled at Cambridge, Wittgenstein attended Bertrand Russell's lectures and asked difficult questions. Eventually, Russell responded by asking Wittgenstein to admit that there were no rhinos in the room. Wittgenstein refused. In fact, the rhinoceros was a metaphor for a deeper mathematical debate.
The final verdict
Mantis No 5 is much more than a place to linger and recharge the batteries, in lavish luxury, before or after exploring the Eastern Cape.
This stylish, retreat-like hotel with its creatively landscaped gardens is a must for art deco and art lovers.
Disclosure: Our stay was sponsored by Mantis No. 5 Boutique Art Hotel.