Two rhinos, sculpted from waste oil barrels, stand at the entrance to Mantis Founders Lodge. The pair symbolize both the progress made to save the rhino and the future ambitions of the species at the cradle of conservation in the Eastern Cape.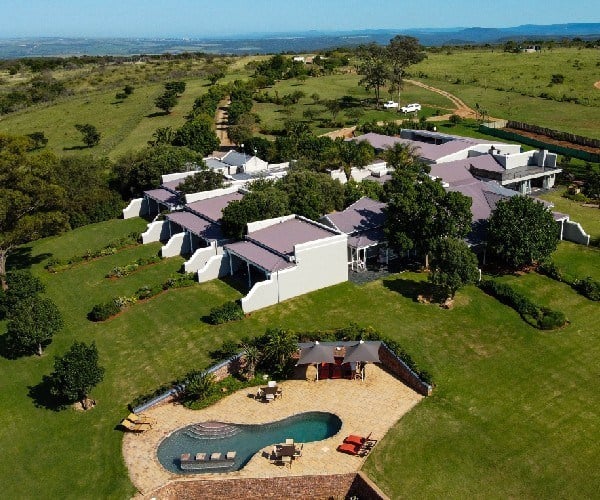 These sculptures are also a symbol of the eco-commitments of the Mantis properties. After all, the acronym stands for Man And Nature Together Is Sustainable. Mantis Founders Lodge is "where it all began", when Adrian Gardiner embarked on his mission to re-wild this spectacular landscape. From introducing the flightless dung beetle to oxpecker birds to elephants, this was an extremely ambitious project.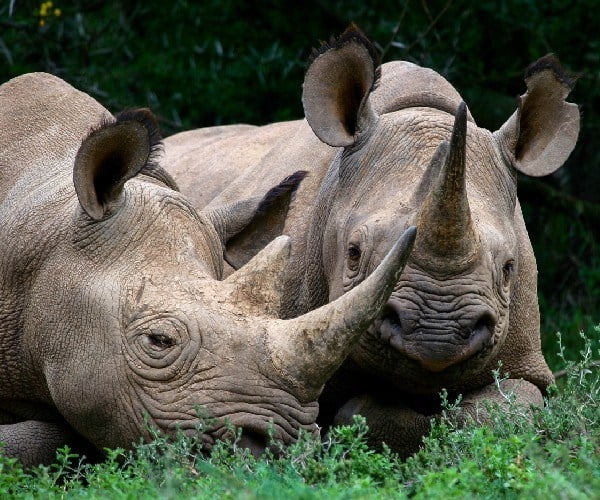 Soul-reviving dawn and dusk safaris traverse nearly 100 square miles of distinctive ecosystems with an abundance of wildlife, flora and fauna. Yet there's more to the Eastern Cape than just the Big Five: a 70-minute drive will take you to Port Elizabeth for whale and shark spotting. The Big Five extend to the Big Seven.
Home
Just at the entrance to the reserve, we head to the Founders Lodge estate where gardeners prune and weed to create manicured gardening perfection in the heart of the bush.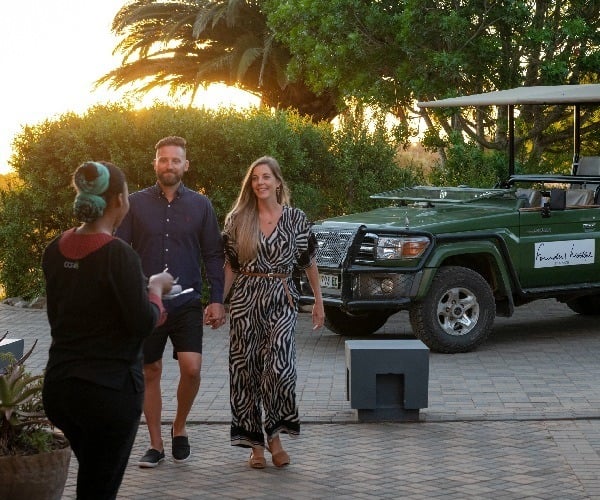 Frozen flannels and a cold drink welcome us. As we are guided to our room, our luggage follows.
Bedroom
Recently built above the breakfast room, elevated bedroom 7, aka The Honeymoon Pod, is accessed by a flight of stairs. While some rooms have their own gardens, number 7 has a roof garden with a dining table, chairs and spectacular panoramic views over the valleys and bushland.
One wall is almost entirely devoted to sliding glass doors offering serene views across lawns to a blue gum tree. Perfectly positioned, a sofa offers a vision of the game in pole position. Under the tree, Rodney, a large white rhino, browses his endless breakfast, lunch and dinner buffet. Rest assured, an electric fence keeps Rodney and his family at a safe distance.
It's what our spacious room lacks that makes it even more appealing. No mosquito nets. The Eastern Cape is malaria-free. High winds and a lack of surface water keep malaria-carrying mosquito species at bay. The light wood doors and half-timbered ceiling give our room a ski lodge feel. Though tribal spear curtain rails and a climate map of Africa remind us that this is Africa. Plus, there's a wrap-around balcony for those bush views.
Alternatively, on top of a hill less than 2km away is The Railway Carriage, resplendent in its royal red and cream livery. This was once the wagon that Adrian Gardiner used to cross African railways.
Now it has three bedrooms that can accommodate five people for exclusive use for family or friends. A private chef and butler provide service. The expansive terrace houses an al fresco lounge and dining area overlooking a beautiful valley. Soon there will be a watering hole, fed by gray waste water from the cart, for game viewing beyond the boma and pool.
At the end of the carriage, the newly constructed ticket office houses showers with floor-to-ceiling views of the bush.
The bathroom
As the eighth year of drought approaches, with rainfall around 30% of usual levels, customers are encouraged to use water economically. A freestanding white oval tub is tempting, especially with a side table of bath salts, a candle, and Healing Earth toiletries.
But a rainforest shower, with views of rhinos to distant hills, is an eco-friendly option.
Facilities
With just seven rooms, the Founders Lodge offers a range of dining options. An indoor boma as well as an outdoor boma host braais of beef lollipops, kudo sausages, chicken breasts, pork chops and veggie skewers.
A private party is a very special occasion. Sitting in the library of Adrian Grainger's priceless collection of ornithology books, candles romantically illuminate our table for two, while a family has exclusive use of the formal dining room.
Large, limited-edition wildlife photographs by David Yarrow appear in impromptu dining rooms. After dinner, you will meet around the pool table in the bar.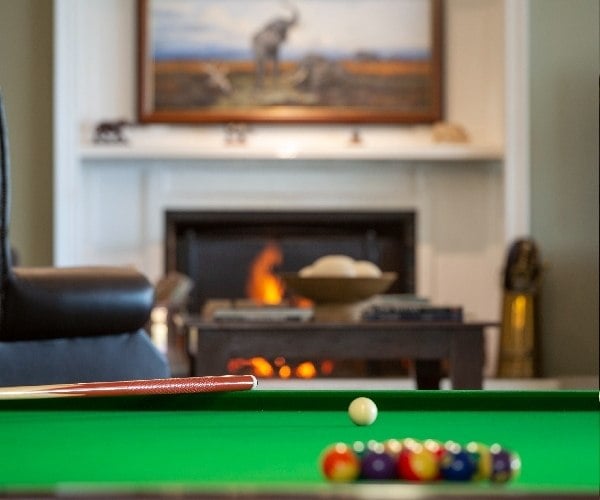 An outdoor swimming pool, overlooking the valley where a dazzle of zebras and impalas prowl, is one of the places to have lunch. A small pool in the courtyard, next to the gym, is the favorite place to cool off after a visit to the hammam.
Then, of course, there are the star attractions, early morning and late afternoon game drives. In addition to the macro safari of spotting elephants grazing in the trees, Srooms, our driver/guide, also focuses on a micro safari.
He describes how workers and soldiers combine in the countless termite mounds. Looking up, he tells us about birds that mimic the alarm calls of other species to steer them away from good food sources.
Location
Flights from Cape Town and Johannesburg take guests to Port Elizabeth. The Mantis Hotel, n°5, is an ideal stopover before the final transfer to Founders Lodge. Many guests extend their stay to begin their quest for the Big 7, by embarking on whale or shark-watching expeditions.
Other little touches
Game drives call on Munu, a black rhino who lost an eye in a territorial fight with another rhino. Then the infection spread to his remaining eye, blinding him. Now, as one of 250 remaining southwestern black rhinos, the search for a mate for Munu is underway. During this time, we feed him his favorite blue-flowered plumbago. With his own Facebook and Instagram pages, as well as two full-time employees looking after him, Munu has become an unlikely social media celebrity.
For children there is a Bear Grylls adventure experience in the valley. Although it's a chance to relax by one of the pools, most parents can't help but go too.
The cost
Accommodation at Founders starts from £551 per room, per night, based on two people sharing (all inclusive).
Exclusive use of the Founders Railway Carriage starts from £1060 per night on an all-inclusive basis for an average family of two adults and two children. This includes a dedicated personal team, all meals, soft drinks and local beer/wine, game drives and on-site activities.
The best piece
On certain dates, guests have the opportunity to participate in rhino conservation. After tracking, sometimes using a helicopter, and calming a rhinoceros, guests watch medical procedures.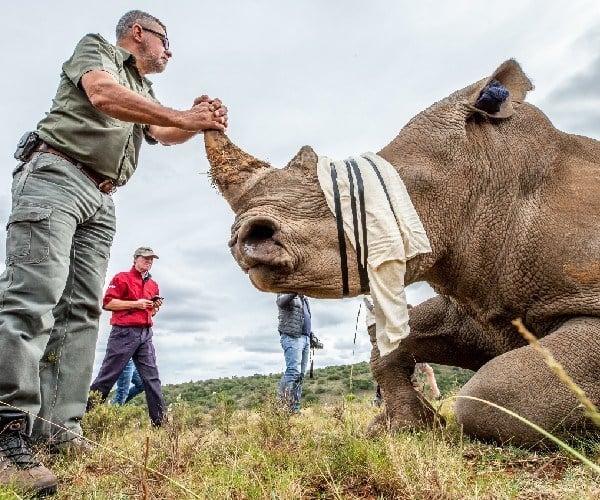 Maybe take responsibility for monitoring pulse and eye movements. Holding their clipboards, guests take part in a health check of the rhinos, helping to assess the composition of scat, vertebrae and hip protrusions. During drought, additional food is provided to rhinos. This gives the option of mixing medicinal pellets into the feed to treat any problem diagnosed by the health check.
The final verdict
Craig and Glynis, the husband and wife team who run this small lodge, are always on hand. They guide us through the day's program and patiently answer our endless questions. With a carafe of port in our room and Srooms serving morning coffee and evening sunsets on game drives, this is a luxurious exploration of the Eastern Cape.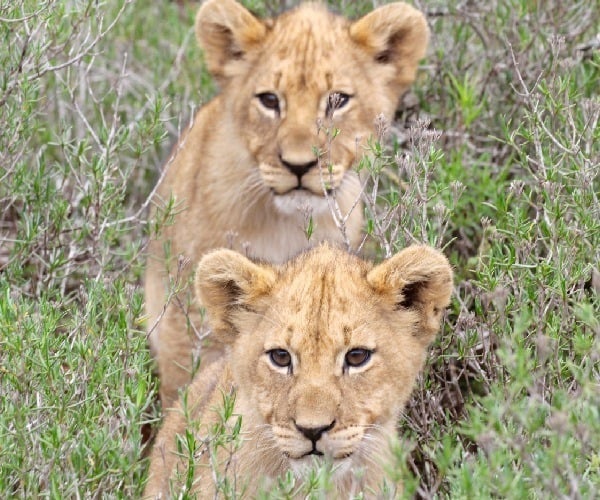 Disclosure: Our stay was sponsored by Mantis Founders Lodge.